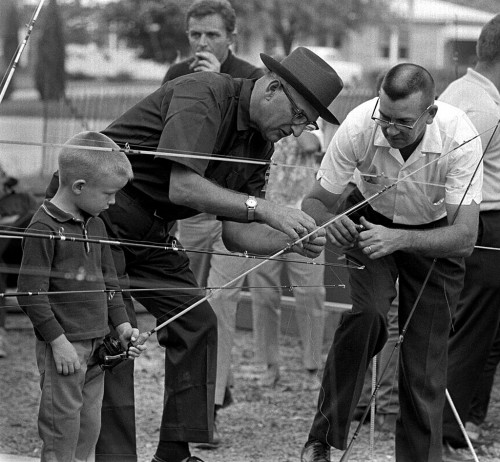 It's getting to be Southeast Missouri District Fair time again. That means it's gonna be cold and rainy or hot and dusty or both. I shared photos of the 1964 Midway last year. I ran across a couple sleeves of other activities to celebrate this year's Fair.
The caption under this September 16, 1967 Missourian photo said, "Too many fishing rods in the same place created a tangle that called for adult assistance at the casting pool at the District Fair Friday night. Chris Sawyer, whose tackle is in distress, watches intently as Richard Holekamp, middle, a state farm forester, and B.F. Carr, 2823 Lear Drive, seek to unravel matters. Young Sawyer is the son of Mr. and Mrs. Jim Tom Sawyer, 1431 Rose.
The Carrs and the Sawyers were the big winners in the casting contest.
Photo gallery of Chris Sawyer
Chris really took his casting seriously. Click on any photo to make it larger, then click on the left or right side to move through the gallery. I'll have a few more fair pictures later in the week.