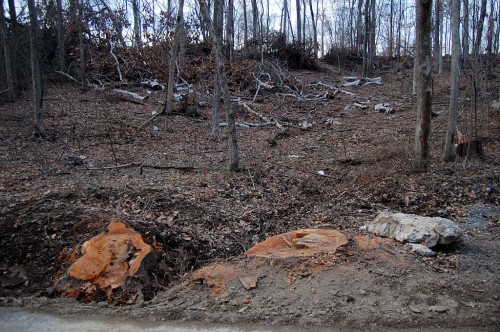 I checked out the middle section of Bloomfield Road yesterday. It's a nice road if you don't like trees. So, what can we do to save the last piece, the part from Benton Hill Road to Hwy 74? The answer is, probably not much.
A worker pointed out that the property across from what used to be Mount Tabor Park had been sold and the owners brought in the loggers to clear cut the land. Looks like the really nice trees are gone before the road crews got a crack at them.
Selective cutting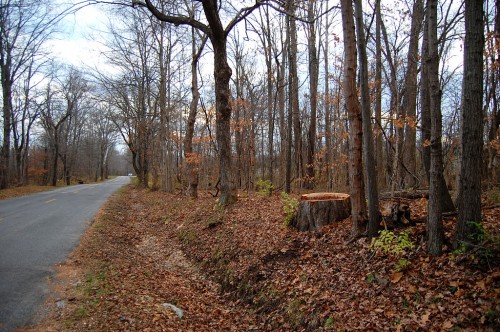 Even where the trees weren't cut en masse, trees of any size were selectively harvested. It might be that the owner knew the road builders were going to cut them anyway, but it definitely gives you an idea of how tree loss is going to be "minimized" along the stretch.
Days are numbered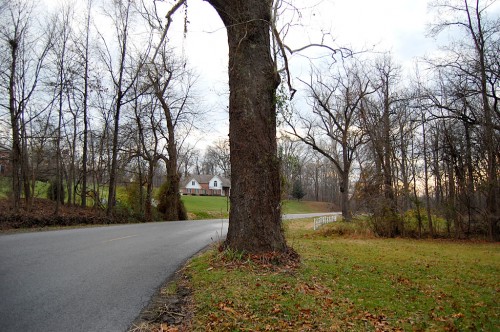 This tree probably saw travelers in wagons pulled by horses pass by to shop in Cape. Considering how close it is to the road, I'd say its days are numbered. Just beyond that tree, before the white wooden fence IS something worth preserving.
The Bloomfield Road Spring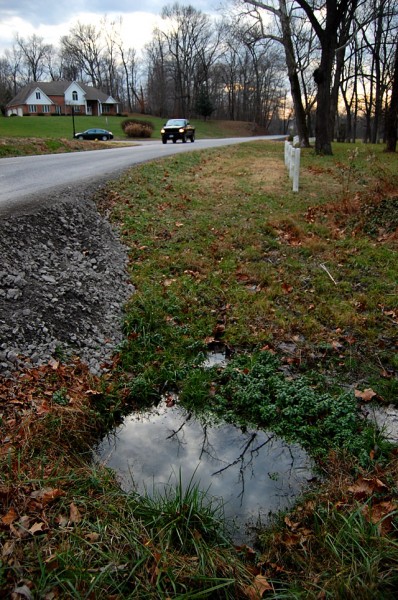 I've written several times about how my mother and her grandmother used to stop at the spring in the curve of Bloomfield Road just north of Elmwood for water on shopping trips to Cape from Advance. Advance resident and historian Paul Corbin talked about his family camping alongside their wagon on trips to and from Cape.
The spring is still there, crystal clear and running enough to keep ice from forming on it when the nearby ditches were glazed over.
I guess the road folks could put up a tiny marker to remind us of what we've lost, not that anybody doing 55 in a 35 could see it or stop to read it.
Wooded homesites; non-wooded roads
A combination of governmental agencies, private logging and people too impatient to drive the speed limit have killed an historic scenic route into Cape Girardeau.
I'd love to save the spring, but I'm not sure that's practical. If they don't get it now, they'll get it when the road is Mount Auburnized to four lanes in the next decade. The clearing of that land signals more development, which means more cars, which means more "need" for speed and "improvements."
Other road "improvements"
Gallery of Bloomfield Road Photos
These photos show the next and final section of Bloomfield Road that is to be widened. Some are of private property that is adjacent to the road that has been logged. Click on any image to make it larger, then click on the left or right side to move through the gallery.