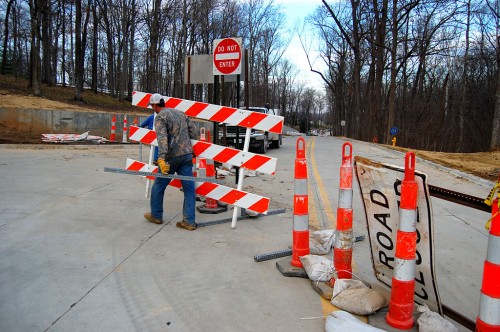 The paper said Bloomfield Road was going to open today. TV news said it was going to open, but the signs said "Local Traffic Only" when we pulled up there this afternoon. Figuring that Mother was local and I had Florida tags and could claim I was lost, we kept driving. Before long, though, it was obvious that the road was blocked, so I grabbed my camera and started hoofing it. (Just as I was starting to leave, "Ryan" (no last name given) started removing the barricades from the road.) Click on any photo to make it larger.
I gotta tell you I really didn't want to do this story. I've written about how I feel about the loss of an historic scenic road too many times. It's a battle lost. I was going to make a strong case for trying to save the last segment, but I'll show you tomorrow why I'm not even sure that battle's worth wasting energy on. By the way, I refer to Phases 1, 2 and 3: the section in front of Campster School (1); this section ending at the Benton Hills intersection (2), and the final section, from the Benton Hill intersection to Hwy 74 (3). News stories refer to phases up to 5, but they're dealing in more detail than I am. Sorry for any confusion.
How does it look?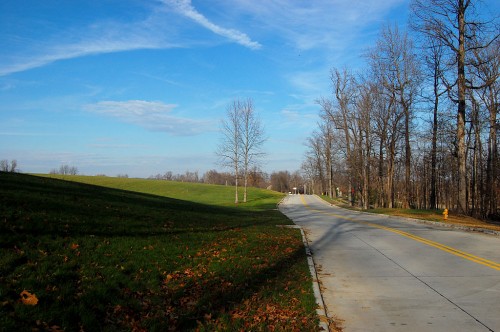 Well, if you hadn't seen it before, you'd think it looks pretty good. If you're looking for the trees you knew and loved, they're pretty much gone. "It won't take long for the trees to fill back in," a workman told me.
"Trees that are two or three feet around?"
"Well, uh, no, THOSE trees won't come back quickly."
Did they "minimize" tree loss?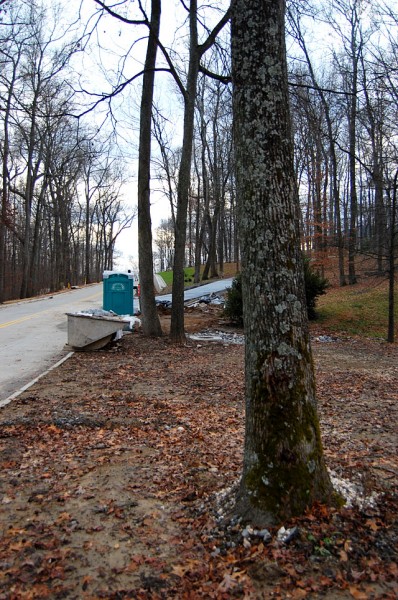 On July 21, I wrote this:
Remember back in May when the city held a meeting to talk about the $1.25 million road-widening project? City officials said that as many as 150 trees would have to be taken down in order to widen the road from 22 feet to 28 feet. City Engineer Kelly Green was quoted by Scott Moyers as saying that the city has taken measures to minimize the loss of trees, but that some would have to come down in order to widen the road.
I'm going to say that ALL of the trees that appeared to be close to the right of way line were cut down except for the two next to the portable toilet. I might give the credit for saving three, but I think the one if the foreground was a little bit outside the line. If the city engineer or anyone else involved with the project would like to show me any stealth trees I missed, I'll be around until the end of the week.
Any good news?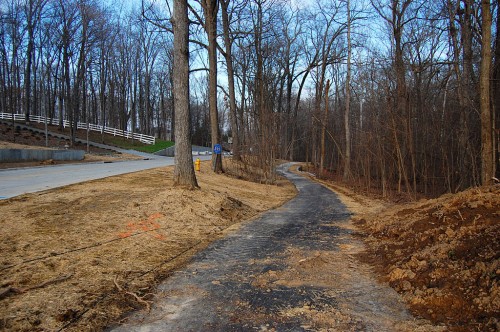 The project DID result in the construction of a nice, hilly curvy bike / ped path. The only problem is that it starts and stops without connecting to anything. The kinds of folks who find trail riding appealing aren't going to brave traffic on Bloomfield Road to get there on their bikes.
How fast will traffic move?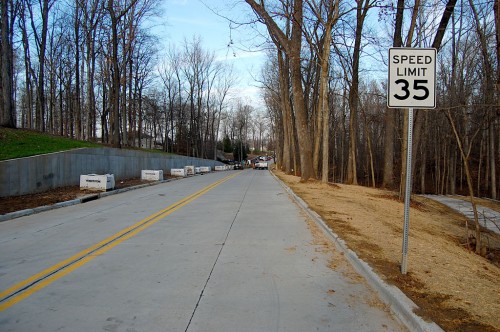 The speed limit on the new section is 35 mph, the same as the old road. When I commented to my workman friend that one of the problems with the old road was that the 35 mph limit wasn't enforced and that cars were moving at 45 or 50, he just sort of snorted and said, "at least." So, how fast do you think they'll go on a wider, straighter road? I'd love to rent a radar gun and log the average speeds once the road is fully open. Better yet, I'd love to sit out there with a speed cop who needs to make a quota.
Note those trees on the right side of the road? How long will it be before a speeder hits one of those and the outcry is to cut them "for safety?" And, if Mount Auburn Road is any indication – it was originally billed as a scenic drive – we can anticipate a push to make it four lanes within the decade.
Large Wooded Homesites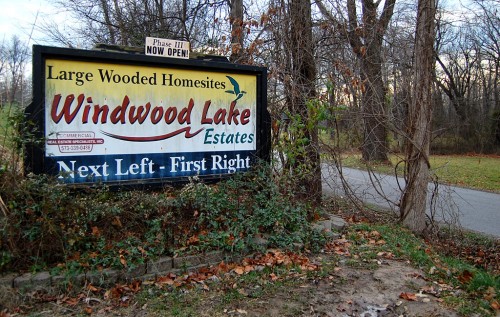 After all, those people who moved out to the country to enjoy their "large wooded homesites" and golf communities can't be delayed a few minutes to appreciate the nature enjoyed by generations of the rest of us.
What about the final phase?
When I wrote about the project in July, I was hoping that it would be possible to rally enough support to see that the beauty of the final section of Bloomfield Road was preserved. I'll post photos tomorrow to show why it may not be worth the energy and shoe leather to do it. I'll also show the one thing on the final phase stretch that SHOULD be preserved for historic reasons.
Here are other stories about road "improvements"
Photo gallery of Bloomfield Road
Here are more photos of the new section of Bloomfield Road. Click on any photo to make it larger, then click on the left or right side to move through the gallery.