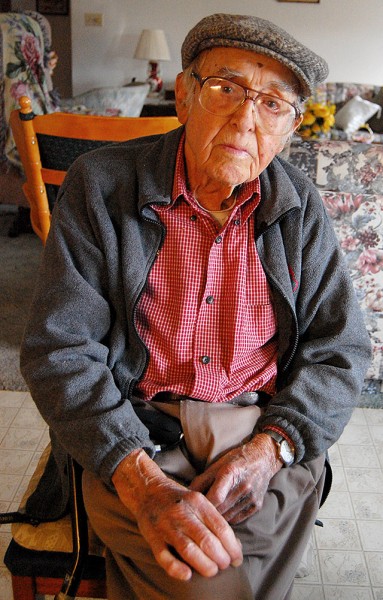 I'm starting to work on a project in Perry County tentatively called "The Last Generation," about the members of the early pioneer families who were the last to speak German as their primary language. My subjects range in age from their 60s to one who is over 100.
I've had the pleasure to photograph three members of the Degenhardt family, including Reinhold Degenhardt. I didn't know his real name was Reinhold until I saw it in his obituary today because everybody always called him "Dixie."
Reinhold A. Degenhardt's obituary
Reinhold A. "Dixie" Degenhardt, 97, of Altenburg, MO died March 5, 2013 at Perry County Memorial Hospital in Perryville. He was born on September 25, 1915 in Wittenberg, Mo., son of August G. and Mathilde S. (Poppitz) Degenhardt. He married Thekla Koch on April 21, 1940. She preceded him in death on October 31, 1975. He married Margie Engert Johnson in May 1978. She survives in Altenburg, MO.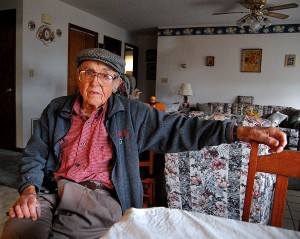 Initially Dixie farmed and was later employed as a meat cutter in Jackson, MO. He held various leadership positions (President, Elder, Treasurer, Trustee) at both Trinity Lutheran and Immanuel Lutheran churches in Altenburg. He held various leadership positions with the local chapter of MFA Oil Co. He was active in the Lutheran Layman's League. He served numerous years as committee man for the Perry County Republican Party. Dixie played baseball for the Altenburg Aces in the 1940's, softball for the Trinity Lutheran team in the 1950's, and Dartball for the Trinity Lutheran Layman's League. He sent food and clothing to the Degenhardt relatives in East Germany following World War II. In 1960, he brought second cousin and East German refugee Heidi Schultz-Netzer to America, providing a home for her, and sent her to high school. Heidi married Albert Boettcher, Jr. Dixie worked at East Perry Lumber Co. from 1967 through 1980. He continued beef cattle farming until 1990.
Survivors include four sons, Larry L. and Pearline Degenhardt of St. Louis, MO, Dewey D. and Marilyn Degenhardt of Jefferson City, MO, Lynn J. Degenhardt of Altenburg, Dean A. and Marguerite Degenhardt of Lisle, IL, one daughter, Connie S. Degenhardt Levy (Griff Gresham) of Columbia; two stepsons, Wayne and Lillette Johnson of St. Charles, MO, Kenneth Johnson of St. Louis; one sister, Paula Holt of Perryville; one brother, Wilmar W. Degenhardt of St. Louis; grandchildren, Grant and Christy, Ryan Degenhardt and Jeanne Aubuchon, Tyler and Sherlyn, Clay and Dori, Jennifer, Dawn, Monica, and David Degenhardt, Carly, Carrie, and Casie Levy, Marvin, Reina, and Tiffany Johnson; and seven great-grandchildren.
Wilmar Degenhardt
I have to credit Wilmar with showing me how important old photos are. I scanned the first batch of Wittenburg photos from 1966, had a stack of Walmart 4×6″ prints made, and showed up at the Lutheran Heritage Center and Museum in Altenburg to see if anyone there could help me identify the people and places. Director Carla Jordan said I should talk with Wilmar.
When we flipped through the aerial photographs, he suddenly exclaimed, "Ohhhhh. This is a rare find. This is the house where I was born." You can hear him in this video.
Wilmar talks about Seelitz
This was the first inkling I had that my photographs had captured things that perhaps nobody else had. Or, maybe that nobody else had held onto for all these years. Seeing his reaction fueled my interest in doing projects like this.
Lynn Degenhardt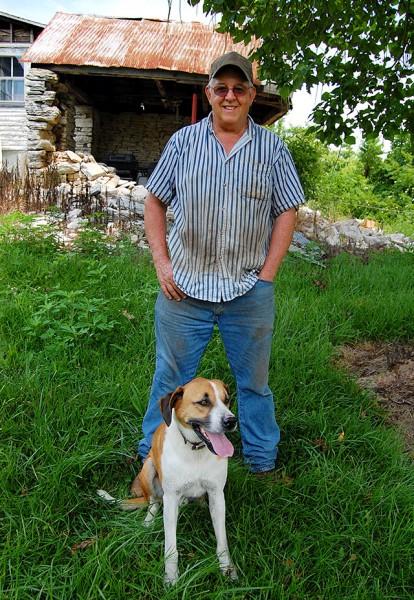 Lynn showed me Wilmar's birthplace, which, along with most of the other buildings in the aerial, is still standing. He's an expert on Seelitz, one of the early German settlements. He explained that the communities in the lowlands like Seelitz and Wittenberg didn't survive as well as the ridge communities like Altenburg and Frohna. Floods and disease took their toll on the settlements closer to the river.