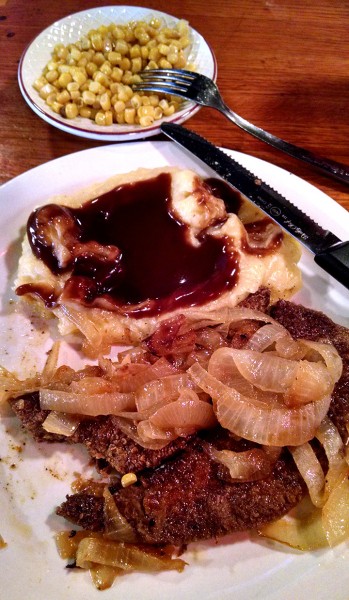 I whined on Facebook Wednesday that I was tired of eating frozen microwaved dinners and needed somebody to nudge me to a craving. I ended up visiting the El Sol on Broadway for the first time and chowing down on an excellent platter of nachos.
Museum Maven Carla Jordan pointed out that if I could hold out until Thursday night, I could feast on the liver and onion special at Altenburg's newly refurbed Mississippi Mud Saloon. I love L&O, so Thursday evening saw me bellied up to the bar between The Missourian's Nancy Hadler and Gerard Fiehler from the Lutheran Heritage Center and Museum.
The photo doesn't do the dish justice. I'm a lousy food reviewer because I'm more interested in consumption than documentation. I had already taken a couple of bites before even thinking about pulling out my Droid smart phone to record this. The funky bar lighting gave the meal a strange cast.
Sharp knife or tender meat?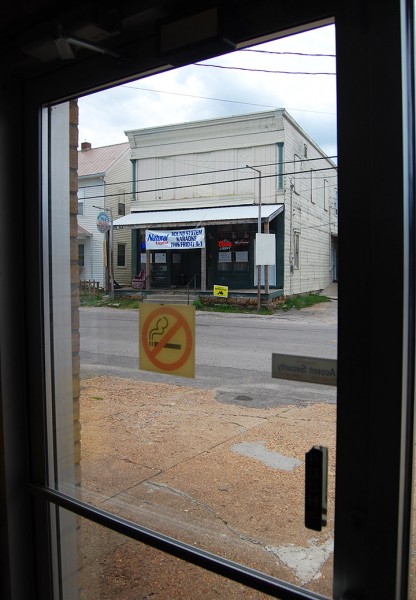 When the server brought out my meal, I made a quick cut and asked her, "Is this a really sharp knife or is the liver really tender?"
"Use your fork. You won't need a knife." She was right.
I'll be back. The only minor problem for me is that it's a bar that allows smoking. I was lucky that nobody around me was puffing away Thursday. Generally you can find a table that's relatively smoke-free.
It was too dark to get a good shot of the front of the building, so I'll substitute this picture taken through the front door of the now-defunct Altenburg Grocery in 2011.