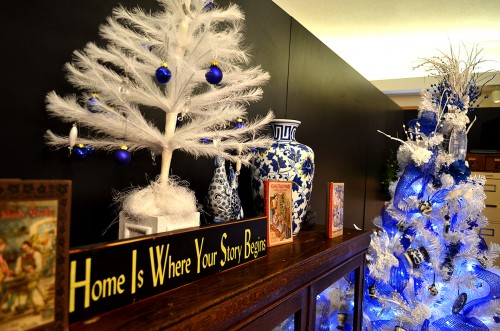 The Altenburg Lutheran Heritage Center & Museum has brought back their ever-popular Christmas tree display. The museum has undergone some major renovations to make more room for genealogical research, so I was wondering how they were going to find space for all the trees I had seen in previous years.
Director Carla Jordan said they have about the same 47 give-or-take trees they've always had, but they've made more efficient use of the space available. I've been going to the exhibit since 2010, and I recognize some ornaments, but they are used in different ways, so don't think just because you've seen it once that it'll look the same.
If you are looking for decorating ideas before putting up your own tree, you'll find some great ideas here. The museum is open daily 10 a.m. to 4 p.m. Admission is free (and the place has the cleanest bathrooms in SE MO). The volunteer staff will make you feel right at home. This was one of my mother's favorite places. It's a pleasant 30-mile drive from Cape over some beautiful farm country. The exhibit will be up from now through January 15.
Earlier exhibits
Christmas tree photo gallery
Click on any photo to make it larger, then use your arrow keys to move through the gallery.