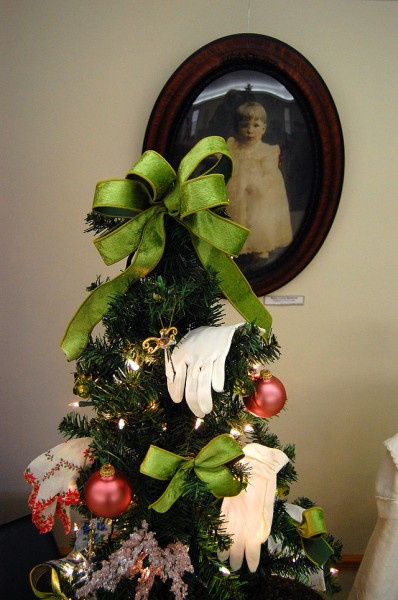 I was busy shooting photos for my Last Generation project in Perry County, so I didn't have much time to hang around the Altenburg Lutheran Heritage Center and Museum while they were putting up this year's Christmas Tree Exhibit. In fact, the only shot I could find was of Dorothy Weinhold perched on a ladder putting the finishing touches on her tree.
[Drat! I just discovered that the Dorothy photo is on a harddrive buried in the back of the van. Sorry, Dorothy, I don't have any way to get to it. I'll have to sub a photo from an earlier year.]
Director Carla Jordan posted on the Heritage Center's website, "The museum will be open every day from 10am-4pm this season (except Thanksgiving Day, Christmas Day, and New Years Day.)  We will be open until 8pm every Thursday evening in December, and until 9pm on Dec. 19th & 20th for the Christmas Country Church Tour. Admission is always free."
Warren Schmidt Video
Fortunately, Warren Schmidt my favorite right-wing curmudgeon and executive board president, transformed a bunch of still photos into an impressive video so you can sample the flavor of the exhibit.
Past exhibits
Travel update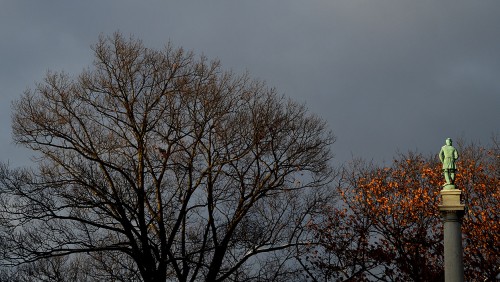 If you saw Wednesday's Athens Winter Storm Video, you might figure out why I decided to stay another day in Ohio. The West Virginia DOT website showed most of the route through the mountains as clear, but there were a few patches that were marked as slush and a couple that said "severe."
Iffy road conditions and a gazillion cars heading for grandma's and already late didn't sound like fun. I'd rather drive when the roads are clear and everybody is holed up with football, parades and turkey.
I slept late, then went up to the library to research the protest movement in the late 60s and early 70s for an exhibit I'm doing in the spring. There's a pretty good chance I've spent more time in the OU library in the past two days than I ever did when I was a student.
I was scurrying to get back to my car before the parking meter ran out when I spotted the iconic War Memorial statue warming his back in the last rays of the afternoon sun. He must have needed it: there's still a patch of snow on his shoulder.
I should be Florida-bound Thursday. I hope there will be some turkey left when I pull into the driveway.