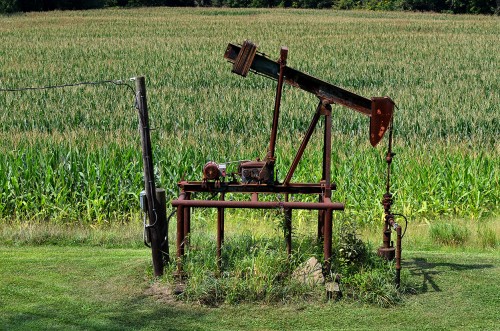 I was all excited back on September 18, 2014, when gas in Jackson dropped to $3.03. On December, 14, I celebrated that gas in Florida had fallen below $2.50. This week, I gassed up for $2.13, and Neighbor Jacqie got it for seven cents less two days later
That got me to thinking about this pumping rig I spotted in Athens County last summer. I was hoping I would run across one because they used to be pretty common in that area.
Other names for pumpjack
In case you aren't familiar with the term "pumpjack" (I wasn't), it is also called "oil horse, donkey pumper, nodding donkey, pumping unit, horsehead pump, rocking horse, beam pump, dinosaur, sucker rod pump (SRP), grasshopper pump, Big Texan, thirsty bird, or jack pump). It is the overground drive for a reciprocating piston pump in an oil well."
In the old days, you'd drive by a field that was covered with a thick sludge of oily goop and see pipes running to a central collection point. For some reason, I don't think I ever shot one. Maybe it was just too ugly in a not-neat way.
Here is a site that explains how those old "jackline"operations work, along with a lot of other interesting history. That sounds like what I remember. They've pretty much become obsolete.
Drilling rig hit gas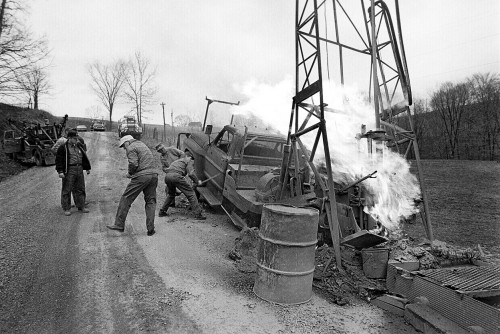 The closest I came to photographing anything like that was this fire. I don't know why this drilling rig was working right next to the road on a chilly day in March of 1969, but it must have hit a pocket of natural gas, and all it took was one spark to light it off.
How does thing work?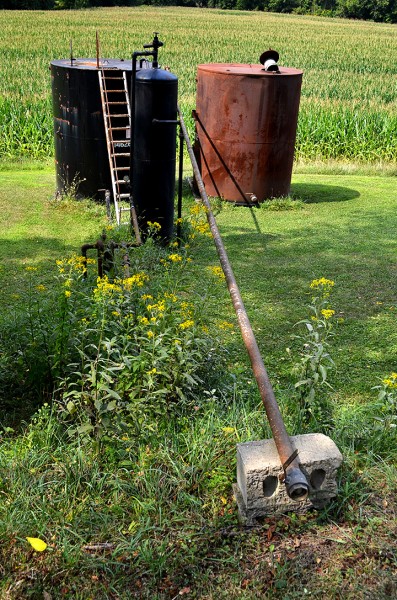 Curator Jessica and I found this while we were running around looking for neat stuff. I asked her how it worked.
Curators are supposed to know everything, plus, she's married to T.J., who is an associate professor of mechanical engineering at Ohio University. I figured she'd have picked up this kind of knowledge through osmosis.
Instead of breaking a stick off a tree and sketching out the whole thing in the dirt alongside the road, she said, "Wait until dinner and have T.J. explain it to you."
Natural gas is the target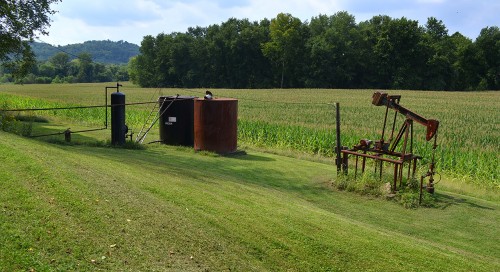 T.J. is an effective teacher. The first thing he explained was that the target is natural gas, not oil, as I had always thought.
His description pretty much matched this explanation given on Wikipedia. He's known on campus as a tough grader, so rather than try to parrot what he said, I'm going to let this illustration explain it. (He doesn't tolerate students who copy the work of others, so I may STILL be in trouble.)
When I asked why they went to all the trouble to use the walking beam with its horse head for a small operation like this (I've seen giant ones out West), he explained that the walking beam with a counterweight can do all the heavy lifting, enabling the use of a much smaller motor than if it was connected directly.
I don't have any idea what kind of volume the wells produce nor how many of them are in operation. A lot of them were sitting idle when we passed by, but we saw one large one that looked like it was fairly new.