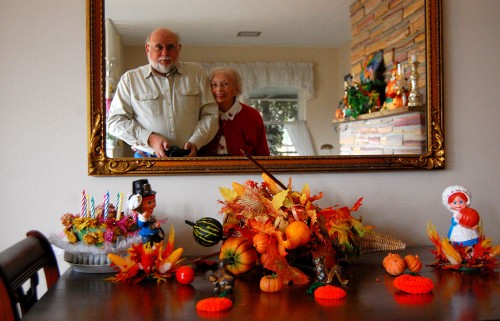 I figure y'all are too busy thinking about eating, eating, recovering from eating or watching sporting events to bother to stop by, so I'll just toss up some photos of things I'm thankful for.
I've never been able to master that teenage girl trick of holding out my camera to shoot a self-portrait of me and my BFF, so I thought I'd try a mirror shot just before I pulled out of Cape headed for Florida. Looks like I haven't mastered the old photo in a mirror trick, either. Mother, at least, looks good. She's responsible for all the festive decorations and for making Cape still feel like home.
Healthy, happy, active family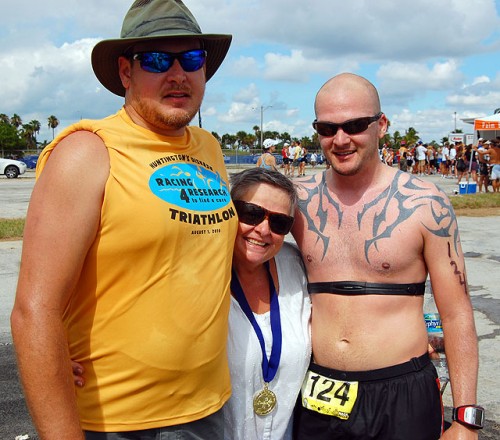 I wrote earlier about the Steinhoff Family Triathlon in August. Adam asked Matt and his mother if they'd like to do a family Olympic distance relay at the 19th Annual Huntington's Disease Triathlon in Miami on August 1, 2010. Each did a leg of their specialty: Matt rode his bike 40 kilometers, Lila swam 1.5K and Adam ran 10K.
They let me do my specialty: standing on the sidelines shooting photos.
Lila came home last night to report that she had bested her swimming goal for the year. She was aiming for 100 miles in 2010, but she's ten miles over that, with another month to go.
A super grandson and his mother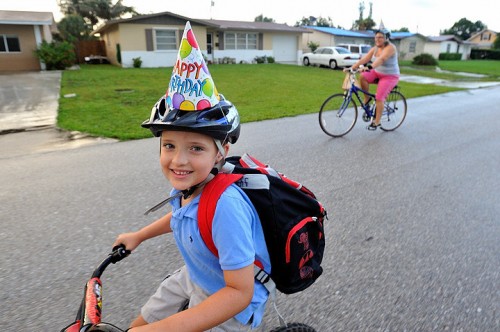 We won the daughter-in-law lottery with Matt's wife Sarah and Adam's wife Carly. Matt and Sarah live close enough to Malcolm's school that he can ride his bike. That's Sarah shadowing him. There's no occasion too trivial to wear special headgear when Sarah's around.
A birthday surprise
Adam arranged to surprise Carly on her birthday by having a new tree planted in their yard while they were at brunch. The couple surprised us earlier in the year by announcing that we're going to be grandparents again in February. They're gonna make great parents.
Saving the best for last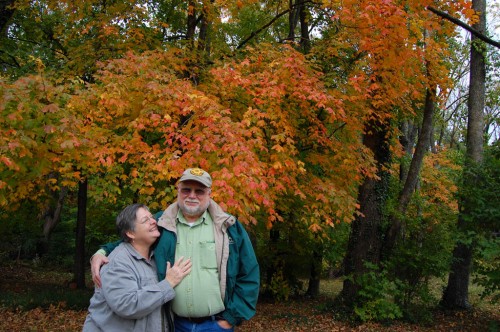 Most importantly, there's Wife Lila, who is the one who is largely responsible for the way our two boys turned out. She's the one who steered the canoe while I was flailing wildly with the paddle. Yep, I'm a pretty lucky guy with a lot to be thankful for every day, not just on the one turkeys dread.