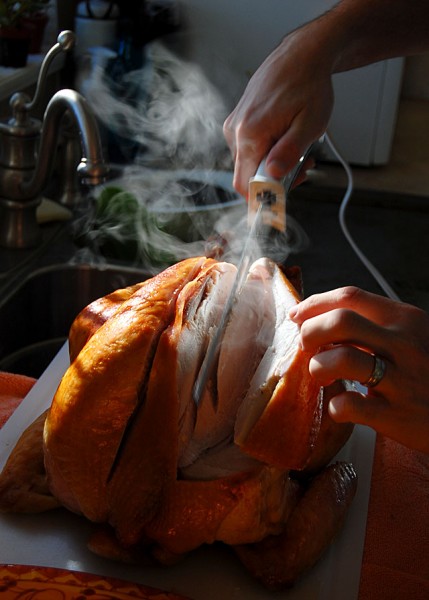 Son Adam and Wife Carly invited us over for a Thanksgiving mini-feast with their friends Eric and Laura.
I never was any good at studio photography. I particularly avoided taking food pictures as much as possible. I didn't have the patience to arrange everything just so.
So, these photos didn't have any fancy lighting or placement. What I saw is what I shot.
Steam poured out of turkey
The electric knife was a Christmas present to Lila from her father nearly 40 years ago. It's a little balky, but it'll still slice turkey.
The bird was soaked in brine overnight, then put on the grill until the internal temperature reached 170 degrees (based on a wireless probe Adam kept monitoring).
It was unbelievably moist, based on some pieces I snatched up before they fell on the floor.
Green beans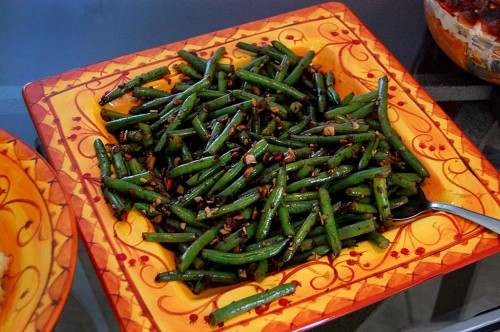 The meal was both tasty AND colorful. Lila tells me this green bean dish by Carly contained shallots, bacon, almonds and balsamic vinegar.
When Adam saw this picture, he was distressed by the odd green bean at the bottom of the frame. It offended his sense of order.
Sweet potatoes and marshmallows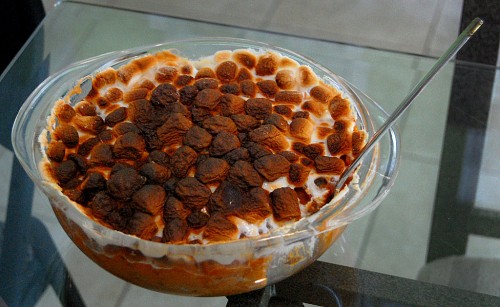 Lila does not eat this, but makes it because it's a Steinhoff family tradition. I whined last year when she "forgot" to make it. She calls it candy, not food. It contains sweet potatoes, crushed pineapple, brown sugar and a topping of melted, toasted miniature marshmallows.
Yeast rolls and cranberry relish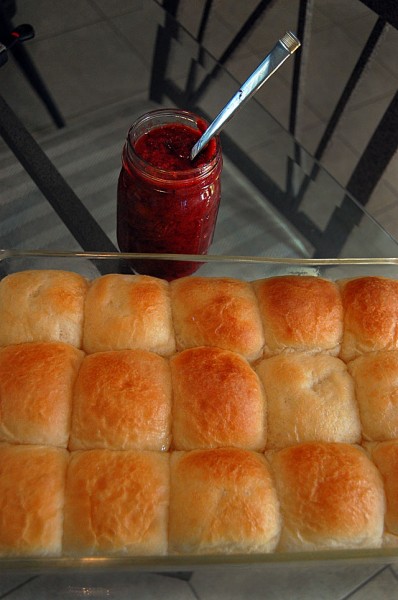 Lila provided the yeast rolls and cranberry relish. The relish is made of raw cranberries, oranges, cinnamon and sugar.
NY-style cheesecake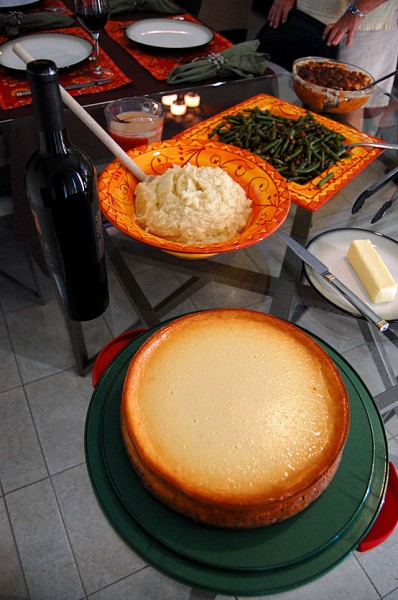 This was Carly's first attempt at New York-style cheesecake. It was served naked (the cheesecake, not the server) with a topping of homemade whipped cream on the side.
If this is really her first cheesecake, she should retire now. I don't think it's possible to make one any better.
Recipes are available
If you're interested in how to make any of this stuff, let me know and I'll pass your request on to the cooks.
You can be assured that the information won't come directly from me. My recipe book is the stack of carry-out menus under the kitchen telephone.