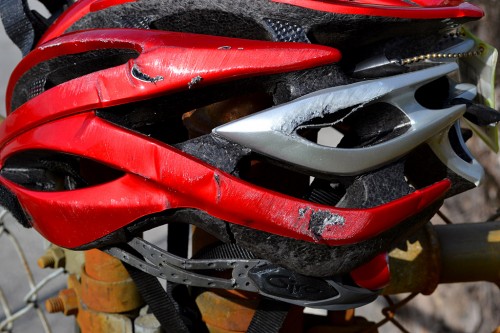 In1968 or '69, I was coming back from an assignment when a farm tractor hauling a wagonload of kids pulled out in front of me from a side road. Instead of hitting the tractor or the kids, I opted to steer off the road into a ditch.
I knew the trooper who showed up to work the incident.
"I guess that's the quickest you've ever gotten to the scene of a crash, huh?" That's what passes for trooper humor in Ohio.
I had one of those moments this afternoon. I found out that (a) two bodies cannot occupy the same space at the same time, and (b) the Law of Gravity has not been repealed.
I'll go into detail about my bicycle accident later. Right now I'm sore and the pain pills have me a bit more confused than usual.
"Don't worry, Doc. He's always like this"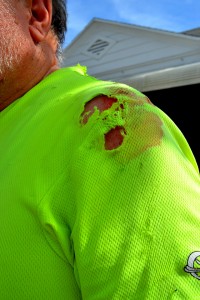 I declined to take a ride with all the fancy lights and sirens (at about a hundred bucks a minute), but I did opt for Wife Lila to take me in to be checked out. The ER doc was a bit concerned after questioning me until Wife Lila said, "Don't worry, Doc. He's ALWAYS like this."
I landed hard on my left hip, left shoulder and knee, and painted the concrete with a fair amount of skin crayon. To be on the safe side, they X-rayed me from knees to the tip of my head and sent me through a CT scan.
The Doc came out about an hour later and pronounced me "normal".
My feelings were hurt. Mother told me all these years that I'm above average.
The photo above shows why I wear a helmet. That and the life lesson I got from my riding partner Mary, who WASN'T wearing one once.
Back to regular programming Tuesday, I hope.