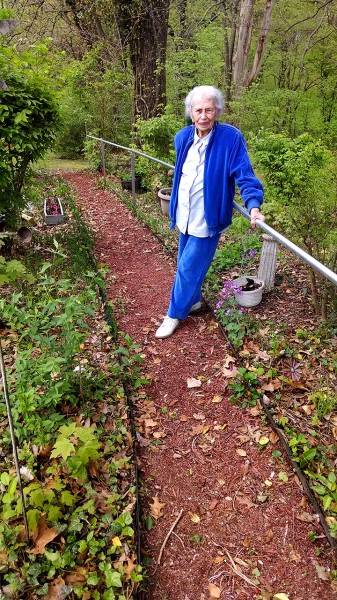 Curator Jessica sent me a text bragging about her time in a triathlon Saturday morning. We exchanged a couple of messages, then I texted her, "I'm busy taking fencing lessons, so I will probably be incommunicado."
Mother has a porch on the east side of the house overlooking a woods that is the perfect place to sit and watch the birds and squirrels. Even on the hottest day, it's usually shaded and comfortable. A few years back, Brother Mark cleared her a pathway to go from the front yard to the back and to get to her bird feeders and hanging plants.
The surface is a bit uneven and the hill is fairly steep, so we thought we'd put up a handrail to make her meanderings a little safer. Of course, we didn't really know what we were doing, so don't look to closely at our handiwork.
Since Mother's age – 92-1/2 – and her weight are about the same, I don't think there is much danger of her knocking it over.
 The Rule of Threes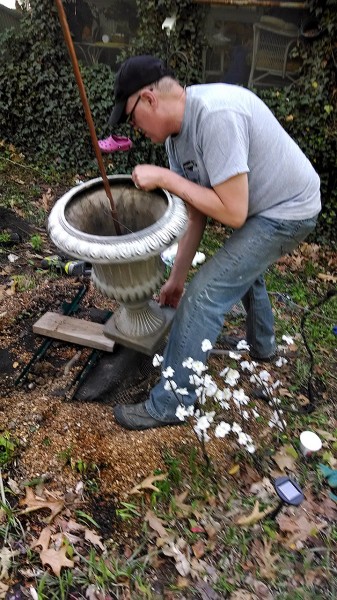 I wrote about the Rule of Threes when Kid Matt was building me a new computer. This project was worse that than. In 24 hours, I think I have been at Menard's four times; Lowes five times and Ace Hardware at least five times. And, of course, when you are in the Big Box hardware stores, fencing materials and gardening supplies are on one side of the world and lumber is on the other.
One of the tasks Mark wanted to tackle was getting Mother's fountain working again. We confirmed that the pump was getting power, so we deduced we were peering at a kaput pump. That was a trip to Lowes. Then, he wanted to replace a section of plastic hose with copper pipe for aesthetic reasons. That was Lowes and Ace, where he told a young worker that he was Frankensteining it and would welcome inspiration.
We got back to the house, installed the copper pipe, Gooped it in place so it wouldn't leak, then turned on the juice. The water barely trickled out of the copper pipe. The pump was supposed to be able to handle a six-foot height, but Mark cut off about two feet of pipe to make the distance even shorter. The result wasn't much better. He started to fill the fountain with a hose to make sure there was plenty of water for it to work with.
Leaking like a nursery school
That's where the fountain base started leaking like a nursery school short of diapers. Water left in it at the end of the summer must have frozen during the winter and cracked the plastic.
We hit Menards again. The entrance is here, and the garden shop is waaaaaaaay over there at the far end. They didn't have anything we liked at a price that we liked.
Back to Lowes. The entrance is here, and the garden shop is halfwaaaaaay over there. They didn't have anything, either. And, of course, we also had to hit lumber at the far end, hardware in the middle and customer service at the entrance.
That's just a small part of the day. My feet are killing me.
Mark went to bed three hours ago, which is where I'm headed as soon as I hit the Publish button.
Sorry for the iffy quality. I shot these with my cell phone because I didn't have the strength to pick up a real camera.