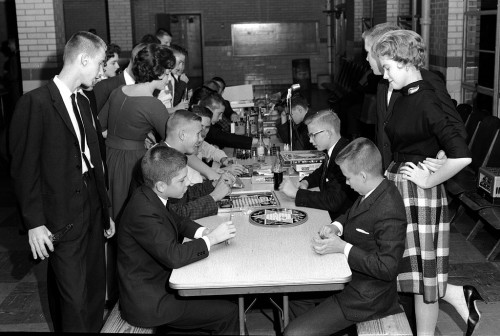 Yesterday's post showed the Freshman class of '66 in the Tiger Den. Today, we'll look at some pictures of the Class of 1965 at its Sophomore party.
I see a bunch of familiar faces at this table. There's Steve Crowe, Ron Dost, Phil Vinyard, Della Heise, Chuck Dockins, Lonnie Blackwood and Vicki Berry. [Note: Ms. Berry's name is spelled Vickey, Vicki and Vicky in various Girardots. She signed one mine as "Vicky," so that's probably the right variation.]
I keep looking at the guy on the right side of the table with glasses and wondering if that's me. The only thing that makes me think it's not is (a) I'm usually the one SHOOTING the pictures and (b) I don't play board games.  (I call them bored games.)
That might be Jim Stone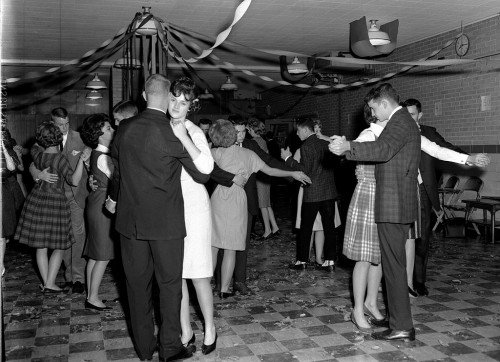 The guy dancing on the far left might be Jim Stone.
Is that Irvin Beard on the left?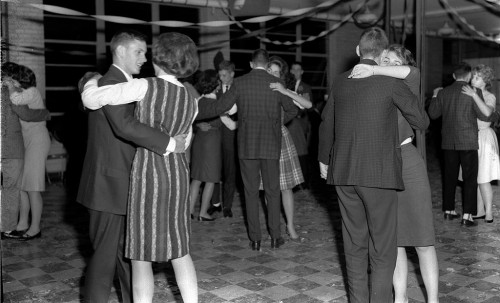 I think that might be Irvin Beard, Class of 63, on the left. He was on the school photo staff. The girl in the middle, facing the camera, looks like Joan Amlingmeyer. Of course, since I'm not even sure of what I looked like, it's hard to take any of my guesses seriously.
Dancing as a no-contact sport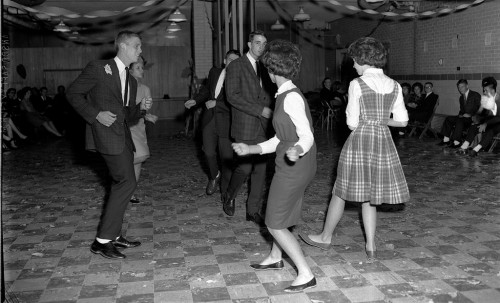 Larry Points commented on my photos of the Capaha Park Pool Party, "My immediate observation would be that this was before corn fructose was put in everything…were we really all that thin back then? Dance moves also seem tentative, like the era of never making jitterbug contact again had just begun."
He may have been onto something.