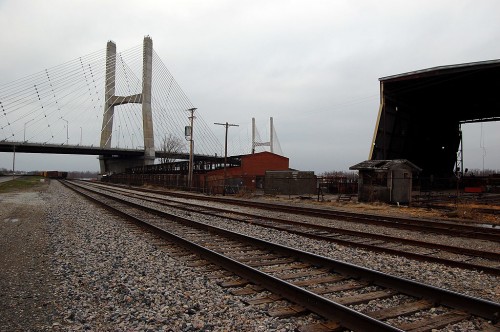 My mother and I were cruising down by Missouri Drydocks at the end of the day, when I heard a train whistle off in the direction of downtown. I thought this might make a cool shot that tied together the river, auto traffic on the bridge and a train whizzing by. If a plane would just fly into the frame and someone would walk by, I'd have all forms of transportation covered in one photo.
I waited several minutes. No train. It was chilly and windy so I started back to the car.
The train whistled again. I waited several minutes. No train.
I started back to the car. The train whistled. This dance continued until I convinced myself that the train was northbound away from me.
Of course, as soon as I got under the bridge, I met a southbound short freight that had a caboose on it. I hadn't seen a caboose on a working train in years. I wrote it off as a missed opportunity.
I'm a sucker for trains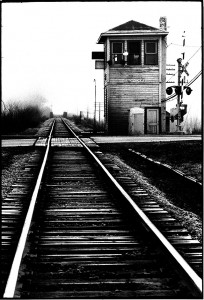 I remember the trip to Chaffee in grade school. When I was 14, I went to Philmont Scout Ranch in New Mexico by train; I rode the train to and from college in Athens, Ohio; I did at least a dozen stories about trains over the years, and that doesn't count the crashes and feature shots like this one from Ohio I used to illustrate a rail strike. The unbroken frost on the tracks got the point across that the trains weren't running.
I rode a freight train
I spent a few nights riding a local freight dropping cars up and down the Florida East Coast line. (I knew every car that approached a crossing in front of us was going to try to beat the train and we were going to hit it. I'm not cut out to be an engineer.)
I've done a story on a T&S Gang, the guys who used to swing sledge hammers driving spikes in the days before mechanization. Discrimination was alive and well: white workers ate on plates in a sparkling white car; black workers were served on tin plates in a car that looked like it was left over from the Civil War.
I went from West Palm Beach to Chicago and back on the Silver Meteor;  my wife and I took the train to and from Washington, D.C. in 2003. Unfortunately, many of the stories were "last ride" ones marking the demise of rail service.
The caboose is back
We were in the downtown area when I spotted the caboose on the north end of a northbound short string of freight cars moving slowly. I sped ahead to the pumping station on N. Main where the shoe factory used to be and hopped out to shoot from the floodwall side of the tracks toward an old brick building that looked like it had been abandoned.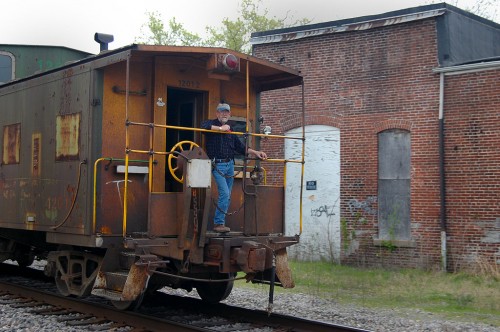 As the caboose pulled slowly past me, BNSF conductor Randy Graviett gave me a friendly wave.
Burlington Northern Santa Fe
I'm going to show my age by admitting that I think Frisco when I see those tracks. It took a Google search to find out that BNSF stands for Burlington Northern Santa Fe. Over the last 150 years, it's the result of mergers that have gobbled up 390 different railroad lines.
Frisco, which was chartered as the Pacific Railroad of Missouri in 1849, looked like it was poised to take advantage of the discovery of gold at Sutter's Mill in California, but construction bogged down until the Civil War ended.
Cherokee Indians block Frisco expansion
In 1876, the southwest branch of the Pacific was purchased by the St. Louis-San Francisco Railway, but Cherokee Indians blocked survey and construction work on the line, keeping it from establishing a transcontinental railroad. The Depression took its toll, but German U-boats sinking tankers in the Atlantic during World War II created a need for a way to transport Texas and Oklahoma oil to the East Coast. Frisco became a valuable contributor to the war effort.
Burlington Northern acquired the Frisco in 1980. You can read more of the history at the BNSF web site.
Railcars decorated with graffiti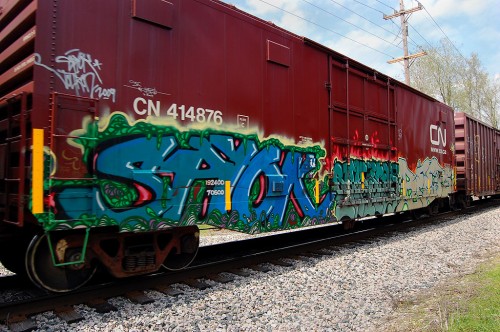 While I was waiting for the train to clear the track, I was treated to a moving art show of graffiti. These weren't just sloppy "tags" with a spray can. Some of the works showed a nice use of color and design.
Tom T. Hall was wrong
Tom T. Hall sings a lament with the chorus,
But the engineers don't wave from the trains anymore
Not the way they did back in 1954
They've all got computers and diesels and things
And the engineers don't wave from the trains anymore
No, the engineers don't wave from the trains.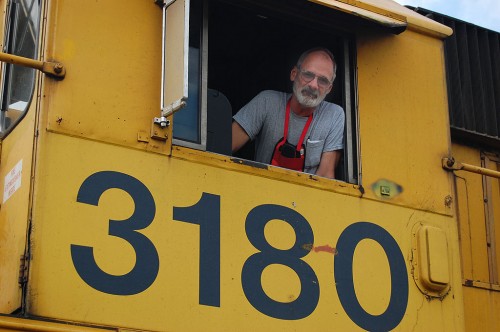 Tom should pay a visit to Cape Girardeau. When the engine came to a stop just about in front of me, brakeman Randy Stroup gave a wave and asked if I was working on the floodwall. I said that I was taking pictures of his caboose and tried to hand him my business card.
He stepped out of the cab and we had a brief chat while the train waited for a red signal to clear. The caboose is used on the local freight spotting cars between Chaffee and Proctor & Gamble. When I commented that it was unusual to see two engines on a train that short, he said they had just gotten the second power plant "because we've been dealing with more tonnage lately. We hope to be able to hang on to it."
With that, the train was given clearance to pull ahead and he was gone.
A reader in the wild
I figured that was the end of it until I got home to see this email from Kim Richmond waiting for me:
Ken, my friend was on the caboose that you took picture of today, so if you will be so kind to e-mail me when you post it I would appreciated it. His name is Randy Graviett, you also spoke to Randy Stroup. I showed them your website and have told several other people about it since I found it. I look every day or every evening to catch up on all that I have missed. How long have you been posting? Do you have any pictures of the old Sunny Hill Hotel and Restaurant or the Country store? When I was younger that was a treat to go the the Country store and Sunny Hill for ice cream. If we had extra money when I was younger we would go to Woolworth's and have a grilled hot dog and go across the street and visit my mother who worked at Montgomery Wards or as they use to say "Monkey Wards"
Wow. I wrote about the excitement of meeting a "reader in the wild" on my other blog.
This is a first for me. I've never had a reader chase me down for a photo I shot BEFORE it was published. Cape is truly the land of coincidences.
Frisco Railroad Library
If you're a train buff, interested in railroad history or want to find out more about the Frisco Railroad, here's a great site.