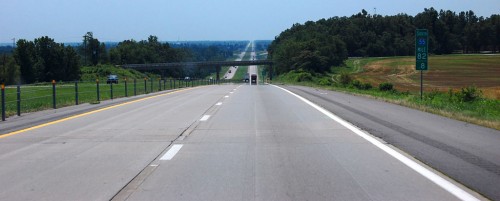 Just as I crested the hill near the 82.8 mile marker southbound on I-55 Monday, I grabbed my camera off the center divider to photograph the Benton Hills. I read a novel once that said that just south of Cape Girardeau you go down a hill that marks the end of civilization before entering the Bootheel and The Old South.
The Benton Hills are part of Crowley's ridge that begins just below Cape Girardeau and extends south to Helena, Arkansas.
Most prominent feature in Mississippi Valley
Although it averages only three to twelve miles across, its height, up to 300 feet above the flat lowland, makes it the most prominent feature of the landscape of the Mississippi Valley from Cape Girardeau to the Gulf of Mexico, per SEMO's Center for Regional History. Until the ridge was broken at the Thebes Gap, the Mississippi River used to run down the lowlands through Advance and Arkansas, with the junction of the Ohio and Mississippi Rivers being as far south as Natchez, MS, instead of Cairo, IL.
The Hills could play a part in The Next Big One, an earthquake like the New Madrid Earthquake that sent the Mississippi running backward and rang church bells in Boston.