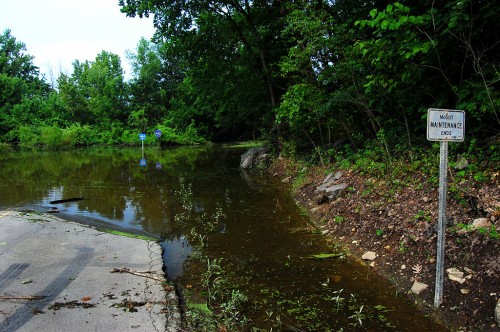 When Buddy Shari and I tried to visit Wittenberg June 27, we encountered a sign that read "Road Closed."
"Only one lane is closed," I assured her as I dodged around the sign.
When we hit a sign that warned, "Road under water 500 feet," I said, "We don't have to worry for 499 feet."
When we got to where the photo was taken, I said, "Looks like it's only a couple of feet deep. We should be able to make it."
"Let me out here," she said.
"See, that's the difference between you and my mother. Mother would say, 'back up about a hundred feet and get a run at it."
Muddy and dusty today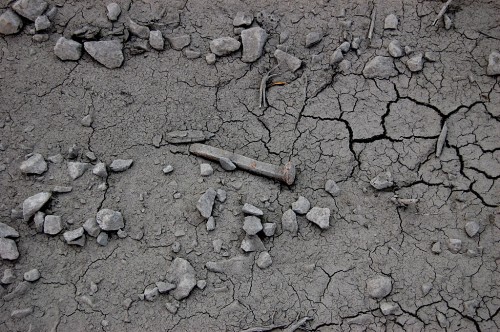 The road was passable today. I went down to Frog Town (once a Wittenberg suburb) where the old train depot was. The gravel road was a little wet in some spots and would kick up dust in others. There's a general coating of dried mud over everything.
Broadway floodgate open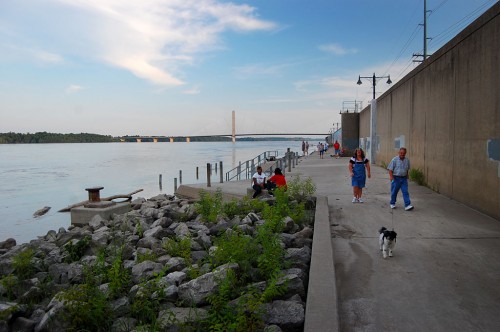 The river's still high enough that the Themis floodgate is closed. The Broadway gate, which is on higher ground, was open July 13 and lots of people were taking advantage of it. What's really nice is that folks become friendlier as soon as they step onto the riverfront. It's easy to strike up a conversation with perfect strangers. Even the dog gave me a welcome slurp when I held out my hand.
I used to dislike the floodwall because it blocked the view of the river. I've grown to appreciate it because, on the other hand, it also blocks out the noise and bustle of the city, creating a quiet space where you can listen to the water going by or have a pleasant conversation.