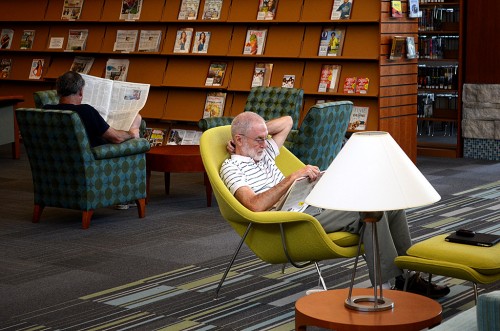 You might know Steve Mosley several different ways.
His mother,

Jean Bell Mosley

, was a local author. He showed up in the background of a photo I took of her in 1967.
He was a member of Central High School Class of 1962.
He retired from teaching high school social studies in 2010.
In 2004, The Missourian ran a story where Steve proclaimed himself the "King of Speakout," because he said he had more than 18,000 Speakout comments published in the last 20 years.
If you are one of his 4,719 Facebook friends, you'll know him for his daily poll of current events designed to whip his fans on the left and right into a name-calling frenzy.
The lime green throne
He makes frequent reference to the "lime green throne" he occupies on a daily basis at Cape's Public Library. He was distressed one day to see it occupied by a non-Mosley. On another, he posted a picture of his wife sitting on the throne and claimed he had been "overthrown."
I took Mother into the library when I was back home so she could get some real help learning how to load library books onto her iPad. That's when I spotted Steve on The Throne.
Steve counted on his trusty bodyguard in the background and a strong force field generator in the foreground to protect him and his throne, but he never realized just how vulnerable he was.
Had this been a real coup instead of a drill, there would have been a new seat on the throne.