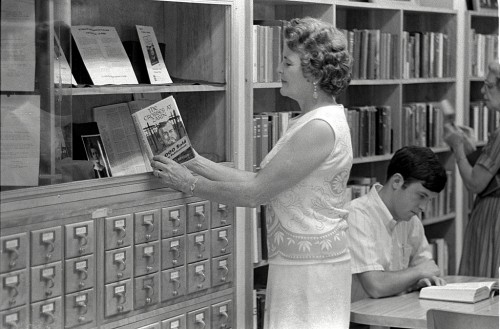 My new film scanner came in a couple of days ago, so I'm chipping away at old negatives again. This sleeve was labeled Jean Bell Mosley and son, 8/3/1967.
This must have been taken shortly after Mrs. Mosley wrote The Crosses at Zarin, the book she's holding. Her son, Steve, is at her right. I've been racking my brain to figure out who the woman is on the far right of the picture. I KNOW I know her, but I can't put a name to the face.
Book signing with Aileen Lorberg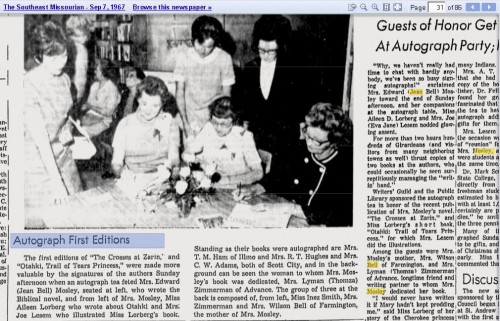 The Sept. 11, 1967 Missourian carried a photo and story about Mrs. Mosley and Miss Aileen Lorberg signing copies of their books at a tea. Miss Lorberg wrote Otahki: Trail of Tears Princess, which was illustrated by Mrs. Joe Lesem.
You can read the whole story in Google Archives. The story mentions that Mrs. Mosley's book was dedicated to Thomza Zimmerman of Advance, her longtime friend and writing partner. Thomza was one of my grandmother's best friends. I spent a lot of time at her house.
Mrs. Mosley was a word artist
For more background, go to Jean Bell Mosley's website. She was a fascinating character who wrote books, magazine articles and a well-read column in The Missourian from 1955 until shortly before her death July 11, 2003. The website contains links to many of Mrs. Mosley's columns.
Her last column was on something as mundane as the the different tops worn by her caregivers, but she made me SEE her "little, midsized and larger helpers here at the R&R spread flit in and out of my room as silent as butterflies…"
She paints pictures with words that are more vibrant than what some of us can capture with cameras or brushes.
There's a link on the site to a video interview Matt Sanders did with Steve and Viney Mosley about Steve's mother. About a third of the way through, I was surprised to see a frame similar to the one at the top of the page pop up. I guess The Missourian must have held on to more of my photos than I thought.