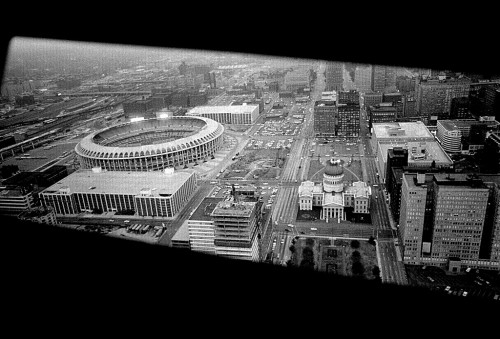 Here is a photo out one of the windows in the St. Louis Arch probably in 1967, just before I left for college.
Tradition: lick the Arch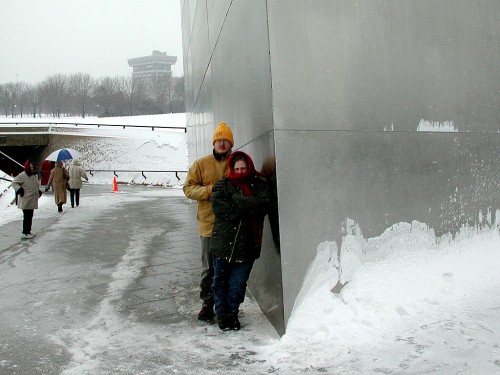 When Matt and Sarah were freshly married, we all headed up to Bro Mark's place in St. Louis for Christmas. When the Arch first popped into view, we started an elaborate story about how there is a tradition to lick the Arch the first time you visit it.
"So many people had done it that the shiny coating has worn off at the lip level," we explained to her. "Some people make a pretty good living out of selling antiseptic wipes to people who don't feel comfortable licking where other people have been."
I was impressed. She wasn't buying it. She had wised up to the Steinhoff family pretty quickly.
St. Louis Arch and riverfront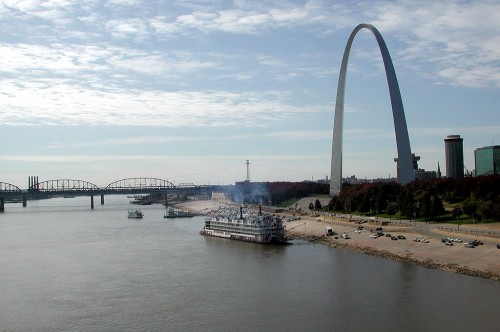 Mark and I took a ride from his house near the Botanical Gardens to the Chain of Rocks Bridge. I was surprised at how it was possible to get around on a bike in St. Louis. Here's an account of our ride to Chain of Rocks.
Here's a shot of the riverfront and Arch looking south, possibly from Ead's Bridge. If I'm wrong, I'm sure Mark will enjoy pointing out the error. That'll be my birthday present to him.
Impressive landmark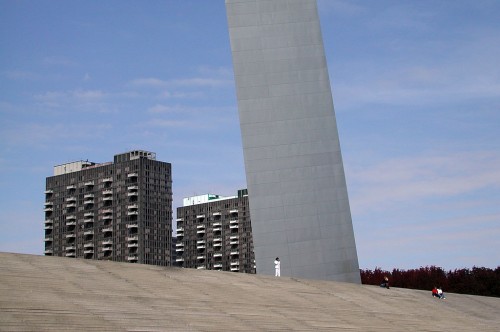 I can remember seeing the photos and reading the stories in The St. Louis Globe-Democrat about the building of the Arch. It's a beautiful landmark that you can't really appreciate until you get up close to get a feeling for its size.