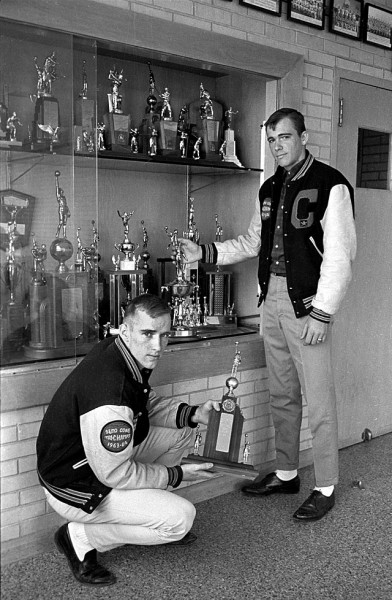 When I ran across this shot of Lonnie Blackwood, right, and someone that Wife Lila thinks is John Young, I thought back to an interview I did with Terry Kitchen in 2009.
Rescued photos from dumpster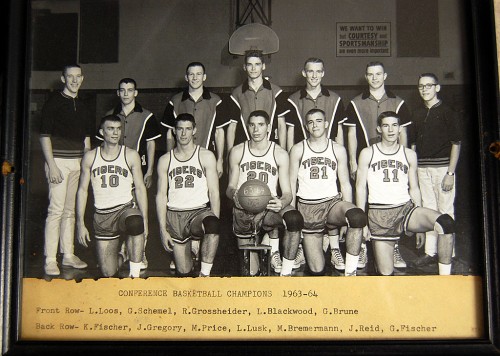 When the new Central High School was built, someone consigned some of the framed photos shown at the top of this picture to the dumpster. Fortunately, Coach Kitchen rescued them.
Gary Schemel, No. 22, was the first Central High School student to be killed in Vietnam.
Terry Kitchen's Ghostly encounter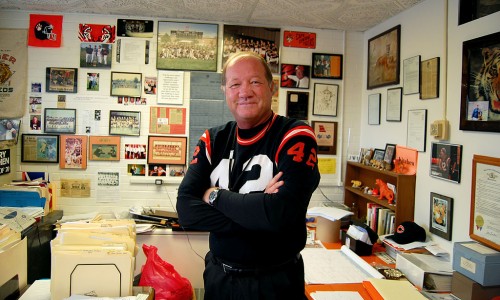 When it came time to move the trophies from the old school to the new one, the Coach had an encounter with what he describes as maybe the spirit of one of those old trophies that "didn't want to leave this place.
Follow this link to watch a video of Coach Kitchen describing the event as only he (and maybe Jerry Clowers) could.
I wonder if one of the trophies these guys were holding were the ones that wanted to stay behind as a record of the team's Glory Days.