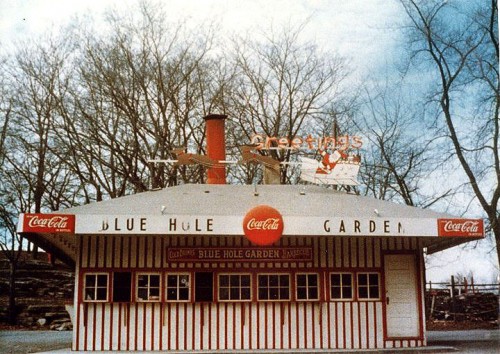 Sue Roussel, keeper of the flame for the 1950s Centralites, read about my quest for a photo of the original Blue Hole Garden BBQ on S. Sprigg and sent me this one.
My dad and I ate many "brown hot" sandwiches off tin Coca Cola tins at this joint. (The "brown" meant that it was made with the outside meat; the "hot" meant you wanted hot sauce.) The limestone bluffs behind the restaurant were great for a kid to climb.
Just west of the Blue Hole was the Blue Hole quarry, for which the restaurant was named. There was a tiny, steep gravel road that led right next to a deep, deep, dropoff that we would navigate to the top of the hill overlooking the deep pit to get to the "worm man." He had the biggest, most lively earth worms I've ever fished with.
Green trailer replaced Blue Hole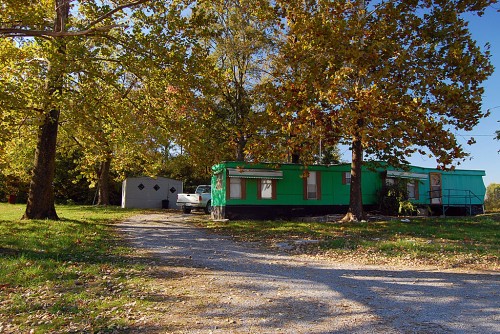 Here are some Missourian Out of the Past column notes about the Blue Hole Quarry and BBQ over the years. Thanks to Sharon Sanders for saving me a bunch of work hunting these down.
April 2, 1928: Lake at quarry of Hely Stone Co. in South Cape Girardeau, known as "Blue Hole" because of clarity of water, is to be drained and, if it proves practicable, will be used as quarry; pump has been rigged up on bank of picturesque lake, and water is being piped to Mississippi River, about one-quarter of mile away; water is being lowered at rate of 13 inches a day.
Jan. 29, 1932: One hour after sawing away two bars to a second floor window and escaping from the Cape Girardeau jail, police capture the 30-year-old fugitive and return him to the lockup; he is making his escape in a taxicab, when he is recaptured on South Sprigg Street in front of the Blue Hole Garden barbecue stand by patrolman Morris Huckstep.
Dec. 31, 1933: Not satisfied with carting away a quantity of merchandise, thieves who break into the Blue Hole Barbecue Stand on South Sprigg Street vandalize the place; they make a thorough job of it, stealing virtually all of the cigarettes, beer, pork, bread and candy bars, and then tossing about the contents of dozens of bottles of milk.
Aug. 9, 1956: Thieves enter the Blue Hole barbecue stand on South Sprigg Street during the night and carry off eight barbecued pork shoulders, beer and cigarettes; Ralph Brennecke is the proprietor of the establishment.
June 19, 1959: Four men narrowly escape serious injury or possible death when their car collides with another vehicle on South Sprigg Street Road in the evening, goes out of control and ends up hanging precariously on the edge of the Blue Hole quarry, after breaking two stands of heavy safety wire which surrounds the hole; only a large cable keeps the car from plunging some 100 feet.
Southeast Missouri Stone Co.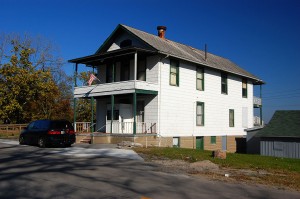 This building was across the street from the Blue Hole. I thought it was an office for Federal Materials, but the 1978 City Directory calls it the Southeast Missouri Stone Co.
Blue Hole BBQ Sauce
The two most unique barbecue sauces in the Cape area (at least, in my opinion) were the Blue Hole and Wibs. The Wibs sauce has more of a bite; the Blue Hole sauce was a little more watery, but still had a good taste.
It used to be sold in grocery stores in the area. In 2005, a Missourian reader asked if the recipe was still around, being preserved by a group of fans.
Jon Rust responded, "As it turns out, you're right. There is a secret group that is keeping the Blue Hole recipe alive. Lizbe Knote, whose mother, Ruth, is a judge for some of the United States' most elite barbecue competitions, including Memphis in May and the American Royal Barbecue Contest, told me that they identified the sauce eating barbecue one day. This tidbit of information led to several twists and turns, and several people who would not speak on the record. The recipe, it turns out, was sold to a man in Blytheville, Ark., who produces sauces but chose not to market this particular one. So, folks who make it here can't sell it, but they can provide it to friends and make it for themselves."
Blue Hole moved near Central

At some point after the original Blue Hole closed, a new one opened just down the street from Central. I used to walk down there for lunch on a regular basis. It's a TitleMax office now.
Blue Hole employees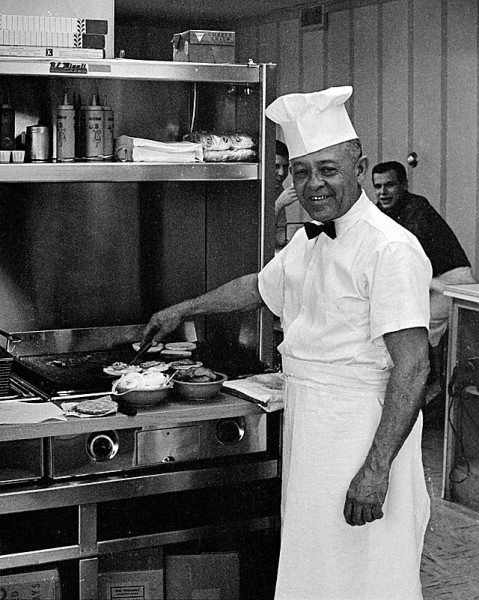 I don't know who this cook is. I shot him at the Blue Hole near Central High School when I slipped out for lunch one day.
My search for stories about the Blue Hole snagged several obituaries for men and women who had worked there.
Verna Mae Cobb Thompson, 79, of Jackson died Thursday, July 27, 2006, at her home. She was a lifetime member of First Church of God in Cape Girardeau, had worked at Blue Hole Bar-B-Que, Denny's IGA, and retired from Wal-Mart as a greeter.
Charles Clemons Jr., 84, of Cape Girardeau died Wednesday, March 7, 2007, at Southeast Missouri Hospital in Cape Girardeau. Clemons served in the Army during World War II. He worked in maintenance at Limbaugh, Limbaugh & Russell for 20 years and at Cape Municipal Airport 15 years. He had also been a chef at Blue Hole BBQ.
Ruby Anna Lance, 91, of Scott City died Tuesday, April 15, 2008, at Ratliff Care Center in Cape Girardeau. Lance had been a cook at Blue Hole Bar-B-Q and Rainbow Drive-In.
Is this the Blue Hole Sign?
After this was published, Gregg Hopkins posted the following comment: "Loved Blue Hole BBQ if I was in Cape, Wib's if I was in Jackson. The only location I remember was on the East side of Kingshighway. They had curb service. The old sign there became the sign for the Golden Eagle Motel (I think that is the name) on north Kingshighway, but has been replaced in the last five years or so."
I had heard the same story and had, in fact, taken a photo of the sign last fall. The motel manager didn't know anything about the history of the sign, so I don't know if it was recycled from the Kingshighway Blue Hole location of not. Maybe someone else knows for sure.