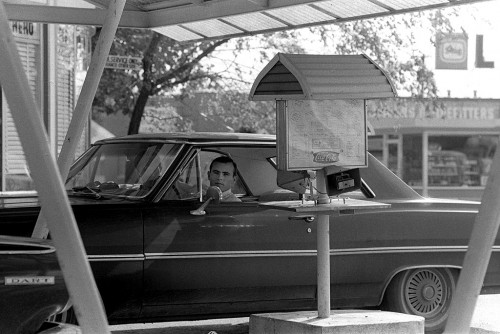 Missourian photographer Fred Lynch and I have been searching like crazy for photos of Pfisters. He came up with some in his Jan. 11, 2009, f/8 and Be There blog.
This is the first one I've been able to find. This single shot was on the end of a roll of undated pictures I had taken of the SEMO football team working out on a trampoline. It's definitely Pfisters because of its round shape, the ordering speakers and the  "HERO" sign in the far upper left.
Hero sandwiches were the signature specialties at Pfisters. The guy behind the wheel ordering looks a little like Tom Holt, but I won't swear to it. Anybody else want to make a guess?
I can't quite read the menu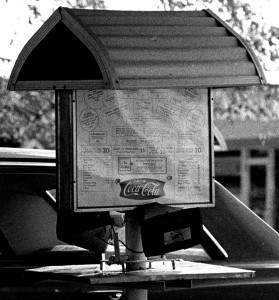 I tried to enlarge and enhance the menu in the photo, but I can't do the magic that you see on Bones where they take a fuzzy picture with half the pieces missing and have it suddenly appear razor sharp.
I can make out that Reuben Sandwiches were available. You could wash them down with a Hawaiian Cooler for 20 cents or an Ice Cream Soda for a quarter. A chocolate milk was 10 or 25 cents, depending on size.
Click on the picture to make it larger. Maybe your eyes are better than mine.
I hope to stumble across more pictures of the drive-in.
Weekend nights saw an endless stream of traffic cruising between Pfisters and Wimpy's. I documented the Wimpy's piece a couple of days ago.
A Chinese restaurant replaced Pfisters