I should have know better than to take a tongue-in-cheek swing (pun intended) at golf and golfers yesterday. I described my disdain for the sport and singled out Sam Snead as a photographer-hating prima donna who would try to blame shutter noise (chirping birds, wriggling earthworms, spectator coughing) for missing a shot.
CHS classmate Brad Brune, a self-described "humble golf fan," took me to the woodshed in a very creative comment. I decided it was worth sharing.
Brad Brune's comment
One of the promising young rising stars in the world of photo journalism, Ken Steinhoff, is on a very important shoot. Many Thousands of Dollars, all your sponsorships, and your national ranking are at stake. Your assignment is to catch a picture of Sam Snead "exactly" as his club strikes the ball on the 18th tee box of the Masters.
You are the only photographer allowed to take this exact photo. Too soon,too late, or off center won't work, and your successful shoot would be jeopardized. At the very least you would loose several thousands of bucks for missing that essential shot – at that historic time and place.
Hundreds of people surround you and are watching you work. "GO KEN…. YOU THE MAN!!" they shout at you as you steady your camera. Millions are watching on TV and there is a close up of you on every TV screen in America. All is quiet…. just the sound a the breeze in the trees in the distance. Sam starts his 100 mph down swing. You are nervous as hell, sweat is running down you face, and you have your moist finger lightly poised above the shutter button.
BOO!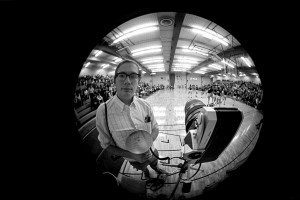 I sneak up behind you at the worst possible moment and quietly whisper, "BOO!" You jump out of your skin, snap the shot a fraction of a second early and your hands move slightly so that Sam's head is half cut out of your shot!
That night you are the "joke" on every talk show on cable and broadcast TV. Slow motion video of the exact millisecond you blew the shot are repeated over and over. Every paper in the country has the head line the next day, "STEINHOFF CHOKES…. BLOWS THE SHOT!" Photographic columnists take cheap shots at you because you won't accept responsibility for blowing the shot saying, "a sudden noise from a fan caused me to loose concentration."
Had you been in Bush Stadium taking a picture of Stan the Man in the World Series with 50,000 fans screaming…. my little trick would not have bothered you at all. You would have been a rich hero, and the toast of the town.
There is no comparison Ken.
Brad
a humble golf fan.
A photographer's rejoinder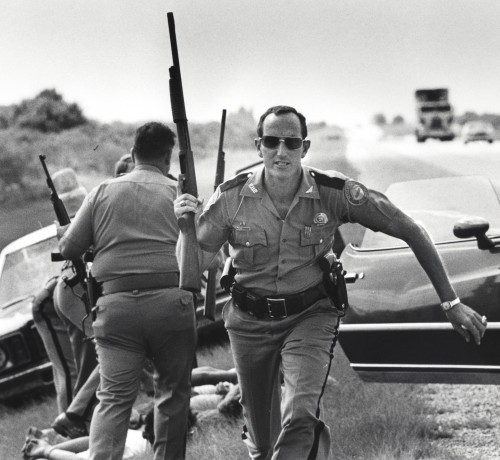 Photographers are the one group who have to literally keep their focus no matter what kind of chaos is happening around them.
When you're shooting what should be a routine traffic stop of some armed robbery suspects and suddenly someone shouts, "Get the photographers!" that's a little more unnerving than someone whispering "BOO!" while Sam Snead is swinging.
Lens hood being ripped off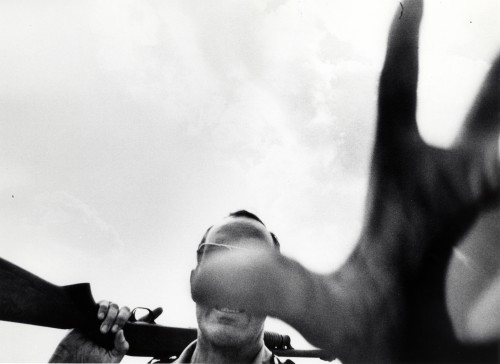 I'm proud to say that this photo, taken seconds after the one above, is sharp, even as the trooper rips the lenshood and filter off my camera while he's trying to take it away from me. THAT'S focus. (The hood and filter are the round, dark and light objects in his palm.)
Trooper attack from another angle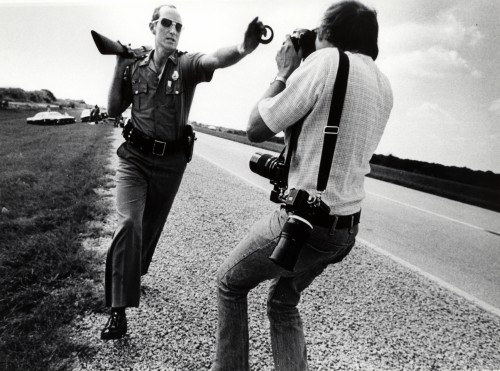 Palm Beach Post Staffer C.J. Walker captured this frame of the lens hood flying through the air. One of these days I'll publish the whole sequence and tell the complete story.
The short version is that by the time the incident investigation was finished, the Florida Highway Patrol adopted a media access policy that has become the model for public safety departments all over the country.
So, while I won't say that every photo I've taken has captured the peak action, been sharp and exposed properly, I'd say my powers of concentration are pretty good under real life pressure. Let's see how well Sam Snead putts in a burning building, while being attacked, in a hurricane or while being teargassed.
I agree. There IS no comparison.
Ken
A humble photographer
[What happened to the trooper, you wonder? My very own newspaper named him Lawman of the Year a couple of years later. I can only assume that what happened here was an aberration or that the editors of the paper thought the trooper had the right idea of how to treat photographers.]