Actually, I have no idea. I just used that title to catch the attention of search engines.
In fact, golf was always my least favorite sport after Dad put me to work one summer cutting weeds along the roadside. He issued me a thing with a long wooden handle and a sharp curved blade that looked like something the Grim Reaper uses to harvest souls and sent me out into the hot summer sun to make grass out of weeds.
The first time I picked up a golf club, I noticed the similarity between swinging a club and a sythe. I did not want to relive that experience in any form, so I scratched golf off my life list.
The guys above are the Central High School golf team. I recognize most of them as being Class of 65, but a whippersnapper or two from '66 might have snuck in.
J. Fred Waltz is second from left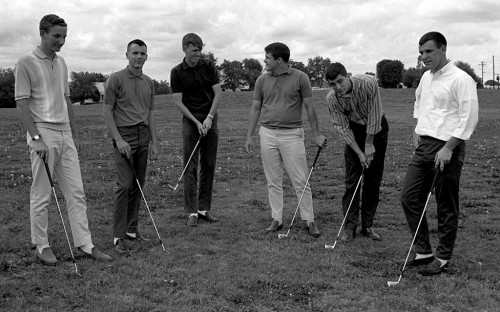 James Fred Waltz – he was always known as J. Fred as far as I recall – is second from the left in both photos. I mention him because he tracked me down and took me out to lunch at a secret, undisclosed location the last time I was in Cape.
Al Spradling was supposed to come along, but he came up with a convenient excuse to ditch us at the last minute.
Waltz, Palmer, Snead, Trevino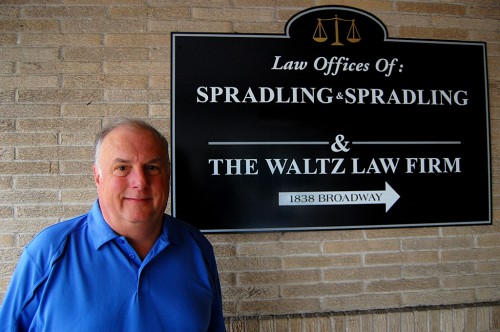 Here's what Mr. Waltz looks like today.
Not only did I not like to play golf, I hated covering it. Fortunately, golf wasn't a big sport in Missouri, Ohio or North Carolina. Unfortunately, it WAS a big sport in Florida, where golf courses outnumber graveyards.
The first couple of years down here, I shot all the biggies at PGA National, Doral and other cathedrals of grass and sand traps. I disliked all of the hoity-toity pretentiousness that went with the sport.
Sam Snead was the worst
The worst guy to shoot was Sam Snead. He hated photographers and always blamed us if he made a bad shot. He reamed me out in front of the whole world one day for – in his eyes – shooting before he completed his swing. When I processed my film, I saw that he had clearly hit the ball before my shutter fired, but it wouldn't have made a difference if I'd have shown up the next day with photographic evidence.
I never could figure out why golfers need absolute silence when a baseball pitcher can throw a rock 90 miles per hour at some batter's head with 50,000 people screaming in his ear.
Arnold Palmer wasn't bad, but my favorite was Lee Trevino. Here was a man who didn't take himself or the sport too seriously. He played a relaxed game like he was having fun, joking with the gallery and never saying an unkind word to anyone.