Generations of Cape Girardeans came of age at Wimpy's. For most of us it was the grocery store / hamburger joint at the corner of Cape Rock and Kingshighway shown here in this 1966 time exposure. You can see more Wimpy's photos over the ages and read some interesting comments at my Feb. 8, 2010, posting.
The first Wimpy's opened in 1942 on the west side of North Kingshighway, near the entrance to Arena Park. Fred and Ethel Lewis ran the establishment while their sons, Freeman and Frank were in the service in World War II.
The youngest brother, Billie (Bill) joined the family business when it moved to the Cape Rock location in 1947. It was a teenage hangout until 1972, when the property was sold to a bank in 1973.
Wimpy's Skyway Restaurant opened at the Cape Airport in 1960, expanded from 12 to 25 seats in 1961, then closed in 1967.
Moved to 506 S. Kingshighway
Bill opened a new Wimpy's at 506 S. Kingshighway after the Cape Rock location closed. He catered to the breakfast and lunch crowd.
In the late 90s, Gary and Diane Garner, shown above, had a car lot on Morgan Oak. They heard rumors that a new bridge was going to be built. "OK, we're done," he said they thought.
They happened to hear that the woman who owned the Wimpy's building wanted to sell it after the restaurant closed in 1997, so they moved Gary's Car and Truck Sales there. I shot this photo Oct. 26, 2009, and didn't think about running it until Ray Boren (Class of 55) posted a photo and note to a Central newsletter showing that the building had been torn down.
I searched through The Missourian for a story, but couldn't find anything that would tell what the land will be used for.
All we have left are memories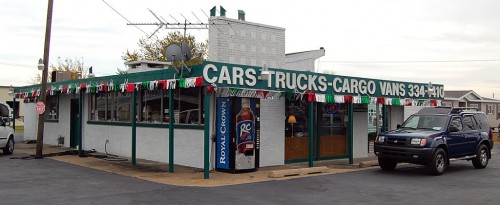 With the razing of the last Wimpy's, looks like all we have left will be memories of seven-cent hamburgers, cherry Cokes and endless loops between Wimpy's and Pfisters.
Lewis Brothers' obituaries