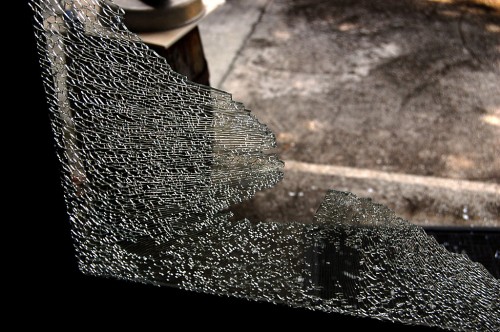 Home Safety Tip of the Day: Remove the key from your double cylinder deadbolt lock, even if you're only going to be gone a few minutes.
Wife Lila and I always make it a point to remove the keys from the front and back doors if we're going to be gone for an extended period of time, but this morning we were going to be gone only for about an hour, so we didn't bother. She was going to pick me up at the service station where I was having my oil changed, then we were going to have breakfast. We left the house at 9:10. We returned at almost exactly 10. I went to my home office to edit some photos, and she went to the back of the house, where I heard her say, fairly calmly, "Somebody has broken the glass in the back door and it's standing wide open."
My underwear was untouched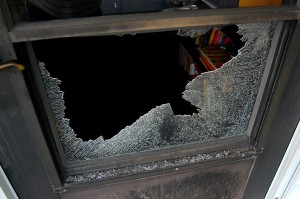 She dialed the West Palm Beach Police non-emergency number while I headed to the bedroom to see if it had been hit. I could see two of her dresser drawers open and two of mine pulled out a couple of inches. She noticed two wooden jewelry boxes were missing.
Now, before you get the wrong idea, we're not big jewelry people. I don't even wear the 20-year watch I got from the company. Most of her jewelry consists of inexpensive things I've picked up on the road, like when I covered the Queen's visit to the Bahamas, or gifts from her mother and grandmother. They are things that aren't worth a lot of money, but are priceless in sentimental value.
The contents of my dresser drawers were untouched. I guess the perp got it open far enough to see that it was my underwear drawer and decided that there couldn't be anything of value in there based on the condition of my underthings.
The officer arrived within about 20 minutes and was a total pleasant surprise. I figured he'd show up, get enough for a minimal report and leave. Instead, he took a lot of time surveying the house and found some footprints in the backyard, which indicated that the bad guys had jumped the fence behind our house to get out. He left to walk the neighborhood to see what else he could turn up.
Good news
He came back about 45 minutes later and said, "I have good news and I have good news," and handed Lila this school photo locket of Matt. He said that he guessed that Bad Guy One must have handed the jewelry box to Bad Guy Two so he could jump over the fence. One of the drawers must have come open and some of the stuff had fallen out. The other piece of good news was that a neighbor saw the mopes and followed them a couple of blocks until they disappeared. When the cop walked the path, he noticed that two businesses had video cameras that could have picked up the guys walking on the street.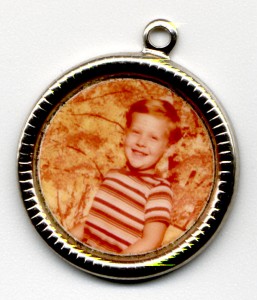 This evening the officer called the house to make sure everything was OK and to tell us that the first video he watched didn't show the faces clearly enough for an ID, but it gave him a direction of travel that might have taken them past a third business with high-quality surveillance cameras that he was going to check later. He was able to determine from the video timestamp that the burglars hit our house about 15 minutes after we left this morning. We don't know if it was a random thing or if someone saw both of our cars pull out and figured the house was empty.
So, rather than just replace the glass on the back door, we're going to replace the whole door with one containing hurricane impact glass. It'll not only give us storm protection, but it'll also make anyone who wants to break in have to work hard. The salesman said you can't smash it with one blow of a sledge hammer, it'll take several.
And, we'll make sure not to leave the keys in the deadbolt. They might be able to come in through a window, but they won't be able to walk out the doors.
Must have been after gold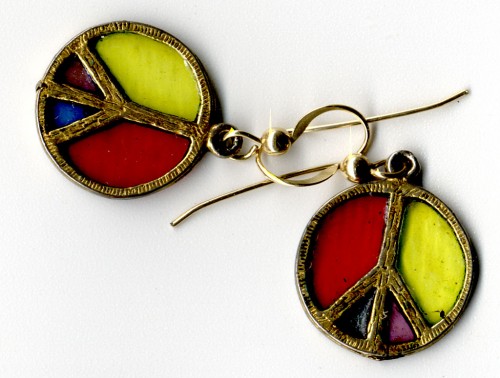 Either the bad guys heard us coming home and took off before we saw them or they were interested in only gold and silver jewelry. None of the electronics, computer or camera equipment was touched. After the officer gave us the OK to move stuff around, Lila found that they had dumped one of the boxes out and left some novelty holiday earrings behind, plus this set of 60's stained glass Peace earrings.
Both the Steinhoffs and the bad guys would have come out ahead if I had just taped a 20-dollar bill on the door with a note saying, "This is more than you'll get for fencing all the jewelry we own. Please take this and move on to the next house."