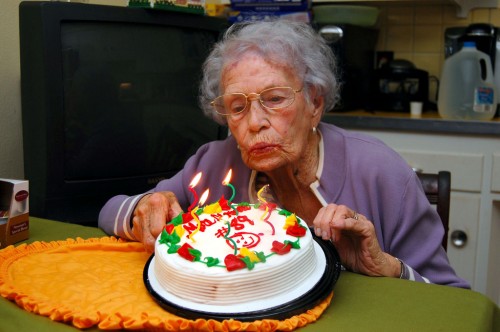 Every year I write about Mother's Birthday Season. She claims that after you reach a certain age, you deserve more than a Birth DAY.
Mother was bragging about going to the doctor for a recent physical. She got a clean bill of health from the doctor, then was handed off to a woman who said she was going to ask her some questions that would sound silly. When she was done, the woman said that the questions were designed to test her memory. "You passed with 100%. Not many people do that."
"Yeah," Mother responded, "but I may not be able to find my car in the parking lot."
Mother passes memory test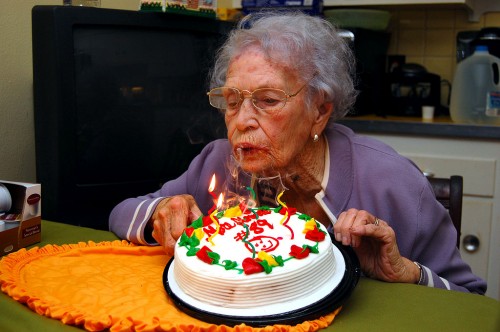 Mother doesn't waste time. After Lila lit the candles, and before I could shoot a picture, the phone rang. She didn't wait for me to hang it up, she just blew out all her candles.
"You're going to have to do that again. How's it going to look if I don't have a photo of you with your cake and candles."
When Brother Mark came up from the basement, he asked, "What's with all the smoke in here?"
"I was just giving Mother a couple of tests. When she said, 'I've already blown these out once,' we figured she passed the memory part; when she was able to blow them out twice, we figured her lungs were OK."
A Digital Grandmother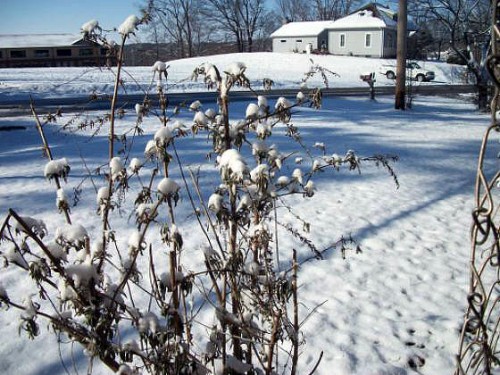 We hooked her up with WebTV about 10 years ago so the family could include her in our email. She took to it immediately. Most of us live on the computer, so she was able to share in our lives in a way that wouldn't have happened if we had to rely on snail mail and letters.
Digital camera came next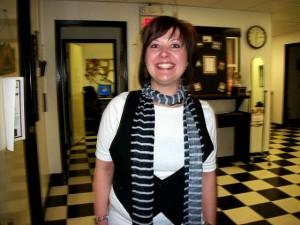 We bought her a digital camera for Christmas last year, fearing she'd never figure out how to upload photos. She took more photos in six months than she had in the previous 10 years, and she turned out to have a pretty good eye, as evidenced by the snow photo above.
When I chided her for not having people in her photos, she started ambushing perfect strangers in Walmart and the beauticians who do her hair.
The WebTv became cranky, frustrating and obsolete. Because it ran IE6, it wouldn't load a lot of websites, including PalmBeachBikeTours.
Time for an iPad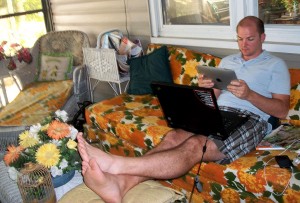 I got a good deal on an iPad, so Brother Mark and I decided to give her an early Birthday Season gift.
Son Adam was going to visit his grandmother, so we shipped it out with him so he could give her a taste of it, figuring I could help her more when I arrived in Cape in October.
Since she had never been a typist, she took to the touchscreen concept much better than a keyboard.
"What's this Facebook thing I keep hearing about?" she asked Adam. We thought it might be confusing for her, but she insisted. She's now on Facebook.
She's had to make a resolution about her iPad usage. She allows herself to check for new mail as soon as she gets up, but she's made herself promise that she won't pick it up again until she's made her coffee, had breakfast and gotten dressed.
It didn't take her long to figure out how to upload photos using her camera and the iPad. She's also been cruising around town looking for wireless hot spots, we think.
Coffee maker, flowers and stuff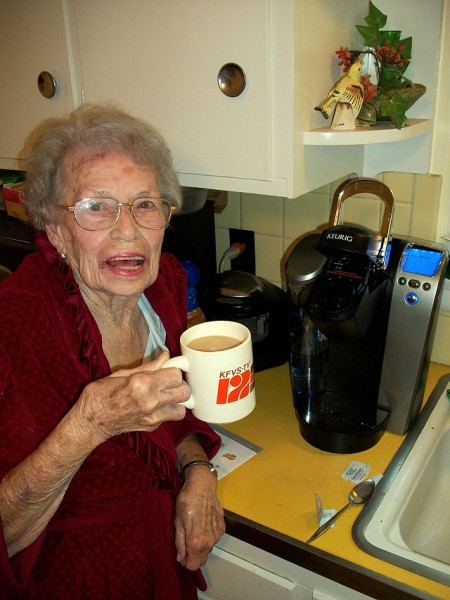 Mark knew that Mother's coffee maker had taken a dive, so he replaced her yard sale special with a fancy Keurig machine that she claims is more complicated to operate than her iPad.
Flowers and other gifts kept showing up throughout the week.
She wants work, too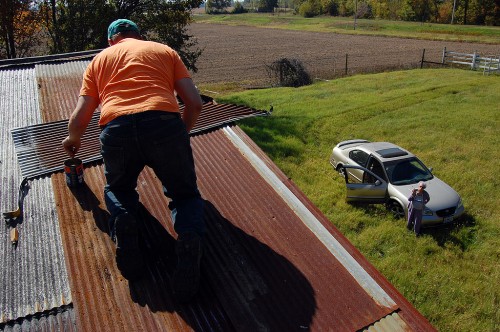 She and Adam discovered some tin had been blown back on the roof of one of our sheds in Dutchtown. Mark and I climbed up on the roof to repair it as a Birthday Season present.
Showing that she had the Steinhoff priorities straight, she was ready with her camera in case one (or both) of us fell off. She had her cell phone set to dial 9-1-1, but she was going to get the photo first.
A visit to Advance Cemetery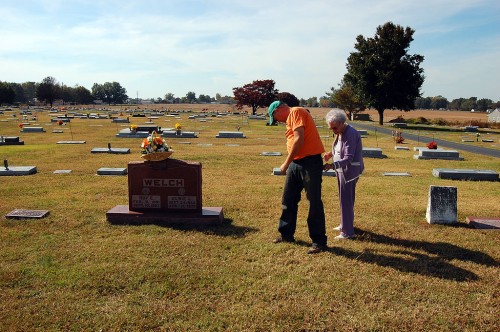 Since we were halfway there, we decided to cruise on down to Advance, Mother's home town. While we were there, we stopped at the cemetery, where Mother's brother Kenneth (for whom I was named) is buried. I didn't know it, but Mother owns two empty plots next to my grandparents' graves.
She told Mark that she was going to offer them to him if he didn't have other plans. Mark decided to try them out for size, but immediately jumped up because of all the stickers in the grass. I missed the action, unfortunately, but did document part of the cleanup operation. Mark decided that since he didn't get a warm feeling from the offered plot, he may make other long-term arrangements.
Past Birthday Season stories