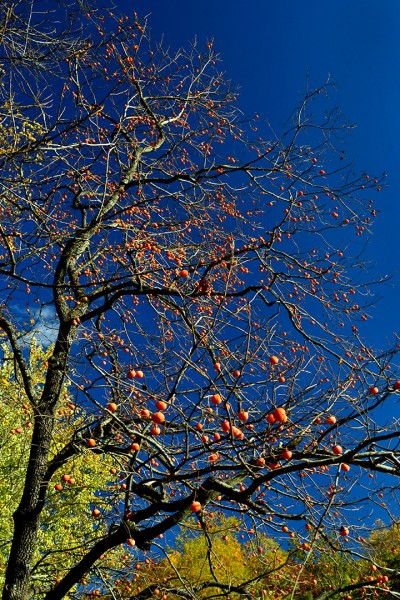 You know that Mother is a big fan of the persimmons growing at Tower Rock, but she keeps her eyes open for other ones, too. Right after I shot the photo of the rennovated dam at Trail of Tears State Park's Lake Boutin, we cruised through the lake's parking lot.
I had just about made the circle when I slammed on the brakes and put the car in whoa-back. For once I had spotted something before my co-pilot.
This tree had already dropped its leaves, leaving its fruit shining like miniature pumpkins against bright blue sky. The ground was orange with fallen persimmons. I gathered up a handful and took them to Mother for a rating. She said they weren't bad, but that they didn't compare to the Tower Rock ones.
Sleeting in Cape
I'm hearing reports that it's sleeting around Cape this evening. Mother flew into St. Louis from visiting Brother David's family in Tulsa over Thanksgiving. She said she made it back to Cape with only a few sprinkles on the windshield. I imagine she has a fire in the fireplace and her electric blanket turned on.
I guess I'd better run one more fall picture before folks get the gloomy gray day blahs.