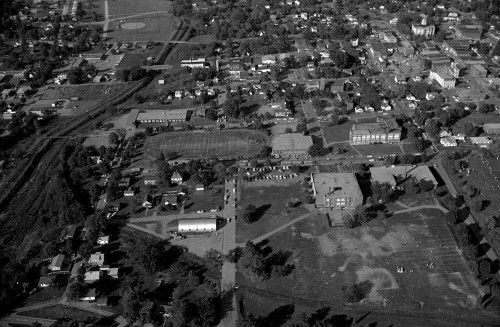 I was doing some grave searching in the Jackson Cemetery the other day when I noticed how much had been added on to the Jackson High School across the street. I'll have current photos soon, but here are some aerials of the area I shot in the mid to late-1960s. You can click on any image to make it larger.
This frame is looking to the north.Hubble Creek is on the left, the County Courthouse and downtown is at top right. Jackson Cemetery on on the lower right. I see people lined up on the football sidelines, so something must be going on. There are also people on the playing field at the bottom right.
Looking east
This photo is taken from the west, looking east. Highway 61 is on the right. The County Courthouse is center left, and the Hwy 25 – 61 intersection is at top right. There's a junk yard at the bottom right. (I guess it would be called a salvage yard these days.)
Looking southwest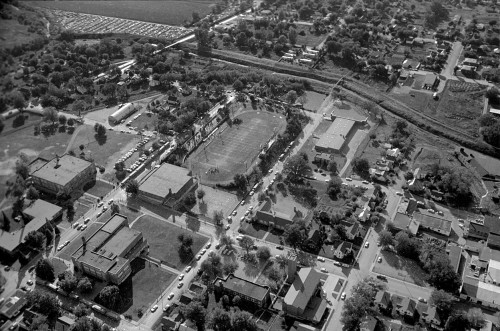 West Jefferson Street is to the right of the stadium. Hubble Creek runs diagonally across the top of the frame, passing by the junk yard and under Hwy 61. Almost all of the area to the left of the stadium has been turned into parking these days. The houses in front of the high school have also been converted to parking. [Personal rant: the next time you complain about the cost of bicycle facilities, ask yourself what it costs to pave over acres of ground for parking lots.]
View to the south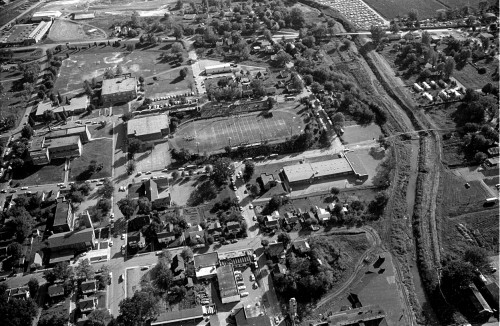 The final view is looking to the south. Hubble Creek is on the right and Hwy 62 runs across the frame at the top. The footbridge across Hubble Creek has been replaced by an extension of West Jefferson if I'm reading Google Maps correctly.
The last time I flew over Jackson, I took lots of photos of downtown and the courthouse, but didn't think to make a pass over the high school. I'll be running photos of it from the ground in the next day or so. It's amazing how it's grown.