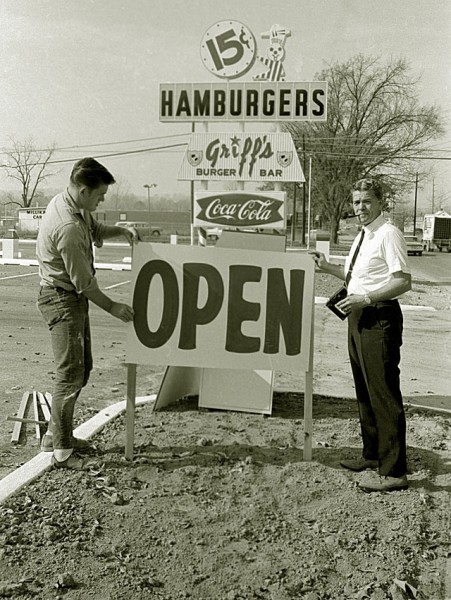 This must have been the grand opening of Griff's Burger Bar. I don't have any idea who the two men are or the exact date it was taken. I'm going to guess sometime between 1966 and 1968.
Millikan Car Lot is in the background. There was a story in the August 12, 1968, Missourian that reported that four wheel covers, valued at $138, were stolen from a vehicle at Millikan Car Lot, 1803 Independence. Based on that,  Griff's must have been the the eatery at Caruthers and Independence.
I didn't see any mention of the opening, but the Google archive index may have missed it. A couple of want ads looking for night managers ran in 1966 and 1969.
Griff's employee engagement announced
There was a Missourian engagement announcement published  May 10, 1968, that said that "Mr. and Mrs. Norman V. Niswonger have ann0unced the the engagement of their daughter, Miss Laura Mae Sample, to Leroy Friedhof, son of Mr. and Mrs. Otto Friedhof. Miss Sample is a senior at Central High School. Mr. Friedhof is a senior at College High School, and is employed by Griff's Burger Bar. A late August wedding is planned."
[UPDATE: make sure you read the comments below to find out more about the Friedhofs.]