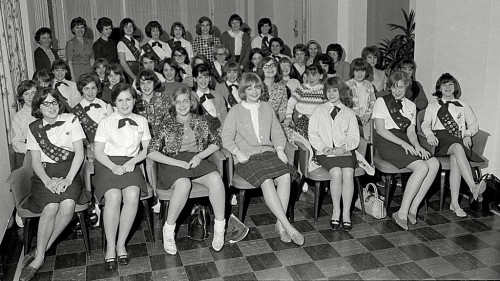 Here are a couple of random Girl Scout photos. I think I recognize some girls from the Central High School Class of 1968, but don't hold me to it. There are girls from Troops 113, 96 and 4, among others.
Beyond that, it's all a mystery to me. I don't know why they were all gathered together or where they were.
Trinity Lutheran Church Girl Scout
This young lady is receiving some kind of award at Trinity Lutheran Church. I'm assuming it's the Girl Scout equivalent of the Boy Scout Pro Deo et Patria award. (Most Protestant Boy Scouts earn the God and Country award; Lutherans have to be different and use the Latin translation.)
The photo was taken March 11, 1967, but I don't know who the man and girl are.