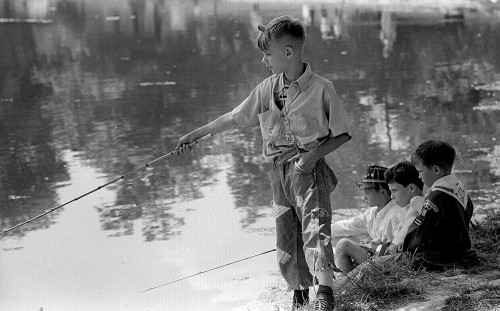 I thought these youngsters might have been fishing at Capaha Park's lagoon, but I'm not positive.
The boy in the Cub Scout uniform has a Pack numeral on his shoulder and a Cape Girardeau city strip. My first guess he was in my old Pack 8 sponsored by Trinity Lutheran School, but it looks like there is another number in front of the 8. Was there a Pack 18 in Cape? Click on the photos to make them larger.
A hat made for fishing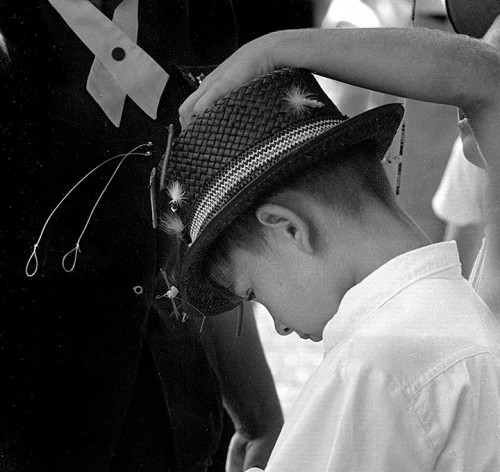 If this kid is half as prepared as his hat, he is a fish killer supreme. He's equipped with poppers, flies, plugs and some leaders that are thick enough to land a whale.
Is this Big Spring in Van Buren?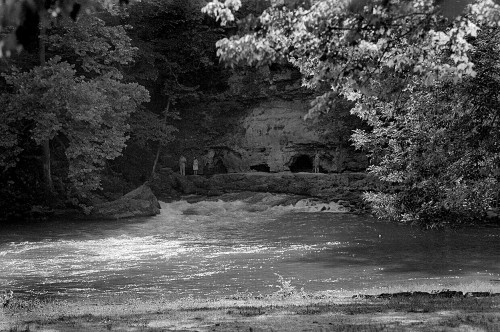 The reason I wasn't sure about where the photos were taken was this one frame on the roll. You know how sometimes you can take a quick glance at something and feel almost sure you know what you're looking at.
This has the feel of Big Spring at Van Buren.Those caves look a lot like the ones in a photo on the park's website.
I wouldn't think a bunch of Cub Scouts from Cape would be fishing there, but who knows?