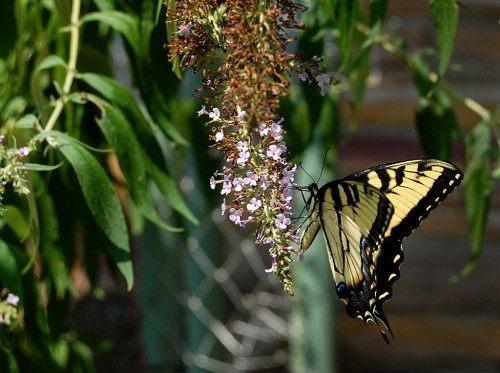 I was putting some stuff in my semi-defunct van (I'm going to drive it around town until it drops since I filled the tank just before I was told it needed an immediate transmissionectomy) when Mother called me to come over. She was transfixed (my van could be transfixed, Honda says, for about five grand) by a black and yellow butterfly.
I grabbed my camera and sauntered over, not thinking it would still be there. To my surprise, it fluttered by a few times, then started slurping nectar right in front of me. (You can make the picture bigger by clicking on it.)
It's an Eastern Tiger Swallowtail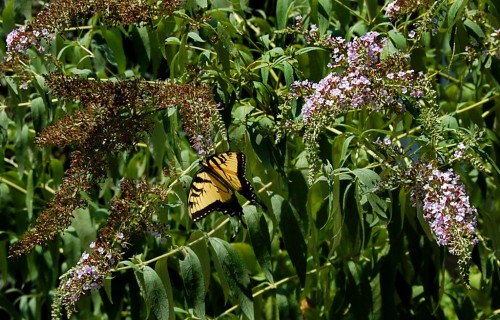 It's an Eastern Tiger Swallowtail, a common species in the area. If I'm reading correctly, it may be a female because of the blue markings on its wings. Males are typically all black. It doesn't make much difference to me, although I guess another Eastern Tiger Swallowtail might care. I'm kinda "don't ask, don't tell" when it comes to the insect world.
I posted a photo of a conglomeration of butterflies at Trail of Tears State Park earlier this year.
I'm told that "conglomeration" isn't the correct term for a bunch of butterflies getting together. Such a gathering is a rabble, swarm, kaleidoscope, flutter or rainbow, depending on whether the namer had access to a thesaurus. A group of moths is called an "eclipse," in case you were wondering. Their press agent isn't as good as the one used by the butterflies.
We're headed to Seattle
If you notice new postings being light or non-existent for the next couple of weeks, it's because Wife Lila and I are headed up to the Seattle area where temps are in the mid-40s. The temperature doesn't have anything to do with the dearth of postings; I just like to say mid-40s after baking in Cape for a month. Because of the van troubles, I'm leaving my bike and all my computer gear except my laptop in Cape. As soon as we get back from our vacation, I'm going to have to hop in her van and come back to pick up all my stuff.
I'm trying to get a few days ahead, but I'm not going to be able to get three weeks of content in the bag in the next two days. You may get to see a bunch of West Coast pictures while we're out there. If they aren't your cup of tea, come back in a couple of weeks. I won't take attendance and there will be no tests given covering material posted while we're on the road.