Reader Steven McKeown sent me an email the other day, "Ken, I have some old pics of Cape … tornado damage; home coming parade pics, etc. … are you interested in them? They are all digitized…"
To be honest, I normally turn down photos from other folks because I still have a gazillion of my own to go through, but he said the magic words, "They are all digitized." That might mean that all I'd have to do is to do some minor touchups and size them for posting.
When the 300-plus images taken by his dad, James D. McKeown III, showed up, I was blown away by some of the the images. These two shots of a boy in his backyard drawing down on the photographer are iconic. I wish my name was under them.
Another one bites the dust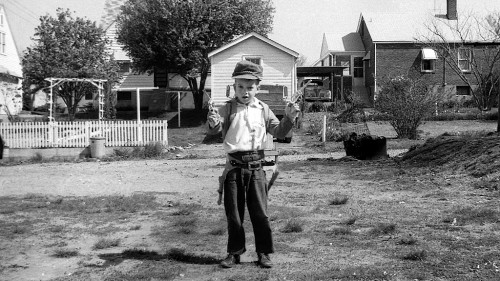 Here's what Steven could tell me about the photo:
Location is our back yard on 1736 Independence (house is still there, right next to the parking lot) … picture is facing north towards Whitner. The houses in the backgroud are on Whitner. I'm not sure who the boy is, but very possibly one of my best gradeschool friends, Brad McKee, who lived down on the corner of Whitner and Caruthers. I have long since forgotten who lived right behind us. Bobby Drace (sp?) lived up the street. We used to race the coaster carts down Whitner (and try to get them stopped before going out into traffic on Caruthers … or have spotters and we would coast all the way to the High School parking lot.
The little boys I shot a generation later were better armed.