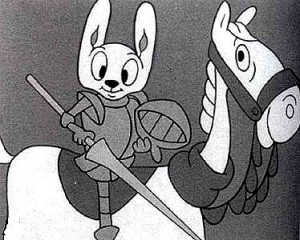 When I wrote about Bunny Bread the other day, folks immediately started remembering that Bunny Bread was a sponsor for Crusader Rabbit on KFVS-TV.
Crusader Rabbit was the first animated series produced specifically for television. The first episode, Crusader vs. the State of Texas, aired on KNBH in Los Angeles August 1, 1950.
Crusader vs. State of Texas
Kid Matt, who has a Bunny Bread T-shirt, but had never seen Crusader Rabbit, found a bunch of the cartoons on YouTube.

Episode 1 sounds vaguely topical these days. Crusader Rabbit is headed to the great Southwest because he heard a radio news report that "the Texans are chasing all of the jackrabbits out of Texas." He was headed down to help his cousins, all of whom were named Jack. Along the way, he enlists the aid of his trust sidekick, Ragland T. Tiger (Rags).
Each episode broken into chapters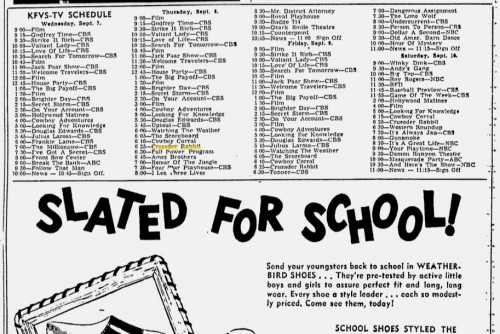 Each episode was broken into as many as 30 chapter, insuring that you'd have to be glued in front of the set every day to keep from missing the story line.
Budget wouldn't buy lunch at Disney
Don Markstein wrote, "Television's first cartoon series, Crusader Rabbit, embodied everything bad that came to be associated with TV animation. It was quickly and imperfectly produced on a budget that wouldn't have bought lunch at Disney, it repeated the same episodes over and over, and its animation was limited almost to the point of stasis. It had only one saving grace — its young viewers thought it was funny."
Crusader Rabbit had simple formula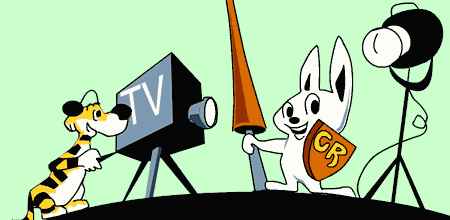 "Crusader's basic formula was simple — humorous adventure stories told (by narrator Roy Whaley) in short episodes, with cliffhangers, about a little smart hero (Crusader Rabbit, voiced by Lucille Bliss, who many years later was the voice of Smurfette), a big dumb hero (Rags the Tiger, voiced by Vern Loudon), and an inept recurring villain (Dudley Nightshade, voiced by Russ Coughlin). Ward would later become famous for another animated TV series with that very same formula — Rocky & Bullwinkle.
"Production ended in 1951, after 195 episodes had been made, and the creators went on to other things — in Ward's case, bigger and better ones. The series was revived in 1957 (this time in color), and ran another 260 episodes; but without its creators (who had sold their interest in the characters), it never recaptured its earlier charm. The color episodes appeared in syndicated reruns as recently as the early 1980s."