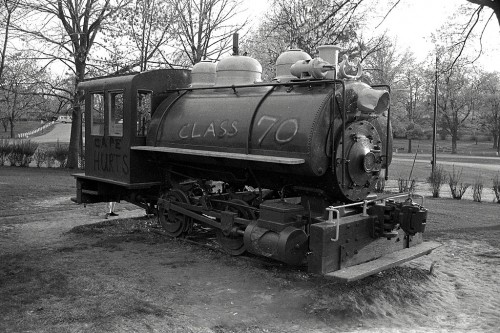 I miss The Southeast Missourian. I never got to write headlines like that at any other paper I worked for. Some low-lifes, probably from out of town, maybe as far away as Jackson, defaced Rosie, the Capaha Park play train.
Class of 70:  "Cape Hurts."
If you look closely to the rear of the train, you can see a pair of legs. I suspect those belonged to the cop reporter bein' as how this was probably the crime story of the day – if not the week – and warranted a photographer AND a reporter. As far as I know, the miscreants were never apprehended.
I'm SURE this photo didn't run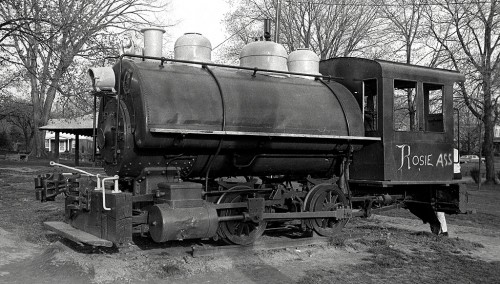 The Missourian was big on decorum. There were advice to the lovelorn columns that didn't run because they were "too racy."
When I ran a story about the Capaha Park and Arena Park trains back in November, I noted that the trains look different today than they did in the 60s when these photos were taken.
Trains have been modified
Reader and model railroader Keith Robinson cleared up the confusion: both locomotives were known as tank locomotives, meaning there was a water tank saddling the boiler. In the black and white photos, the protuberances above the tank from the front of the locomotive rearward are in order; smoke stack, forward sand dome, steam dome, and the rear sand dome. The sand domes sat atop the tank while the steam dome is part of the boiler; the high point from whence steam is drawn. When the tanks were removed in the 80s because of the asbestos insulation that was underneath them, the sand domes were removed with the tanks. The bells never sat directly on the boiler in either case but were mounted atop the tank in front of the smoke stacks.