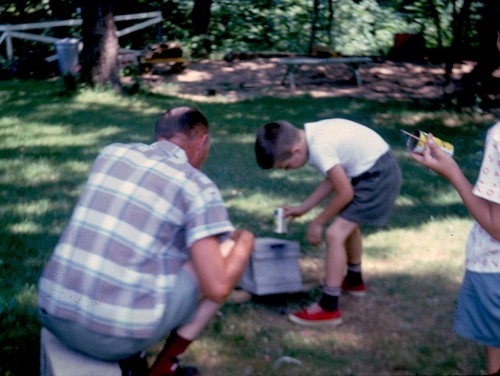 Christmas with its presents, Easter with its egg hunts, Halloween with its trick-or-treating candy, your birthday and the Fourth of July (fireworks) were the biggies when I was a kid. Sure, there were religious and patriotic overtones to the holidays, but, be honest, what did YOU think of?
One year Dad ordered a huge box of fireworks through the mail. When it arrived – and I mean a HUGE box – we all gathered around and unpacked it piece by loving piece. We were admonished NOT to pull on the fuses or they might not work. We weren't allowed to open any of the individual packages and we certainly weren't allowed to jump the gun and actually light anything early.
The funny thing is that dad used REAL dynamite on his construction jobs, but he was as excited about the 4th of July as we were. (By the way, how do you like Brother Mark's bright red, get-away-fast shoes?)
Cherry bombs and M-80s
I don't recall exactly what was in there. I'm sure it had cone-shaped fireworks, all kinds of rockets, Roman candles, bottle rockets and fire crackers from the lady fingers all the way up to the two-inchers. For the little kids, it had carbon snakes and sparklers. It might even have had the mighty cherry bombs and M-80s.
Launching cans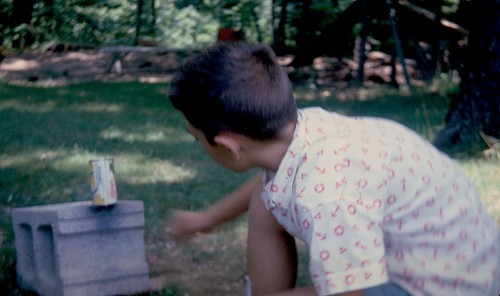 Our big thing was to see how far we could launch cans. The small cans that frozen lemonade came in were perfect for the smaller crackers. We quickly learned that the M-80s and cherry bombs wouldn't send the can in the air. It would blow them up on the launch pad.
To keep from burning up a gazillion matches, the fireworks stands would give you cork-covered sticks – punks- to light the fuses.
Even fireworks can become boring
Shooting cans in the air and lighting firecrackers one at a time was fun, but quickly became boring. The next step was to twist together the fuses of half a dozen firecrackers so you could try to get them to all go off at the same time "like a stick of dynamite." Of course, that never happened. the first one to go off would cause the others to scatter or it would blow out the other fuses.
Dad considered it bad form to light whole strings of firecrackers. Until, of course, even HE got bored playing with them. He usually suspended them from a tree branch so they'd writhe, pop and flash in the air. This was particularly good at night.
Dad wasn't big on picnics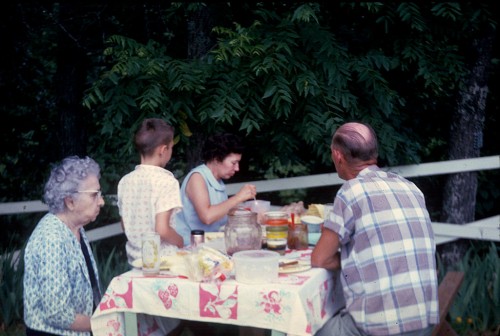 I don't know how many times I heard him grouse, "Six days of the week I sit on the ground chewing sandwiches full of sand. I don't plan to do that on Sunday." I guess the 4th didn't fall on a Sunday, so my grandmother, Mother, Brother David and Dad are gathered around the table in our backyard.
Don't go back too soon
When we lived over on Bloomfield road, Dad got half of the instructions right. The "light fuse and get away" part he understood. He didn't bother to read the section that said, "If the firework doesn't go off immediately, do NOT lean over it to see why." One of those cone fireworks came to life when he was checking it, causing us to hold off lighting the rest of the fireworks until he returned from the emergency room.
I don't remember what the exact nature of the injury was, but he never shot off that particular type of firework again.
Writing with sparklers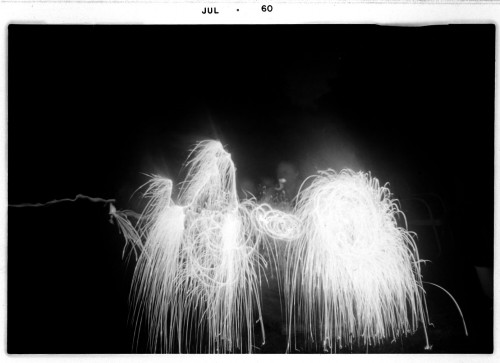 The date stamp on the front of the print says JUL 1960, so I must have shot this with my trusty Kodak Tourist II folding camera set on Time Exposure. I've got some shots filed somewhere where my brothers spelled real words in the air. I didn't bother: my handwriting looks like this ALL of the time.
Two more generations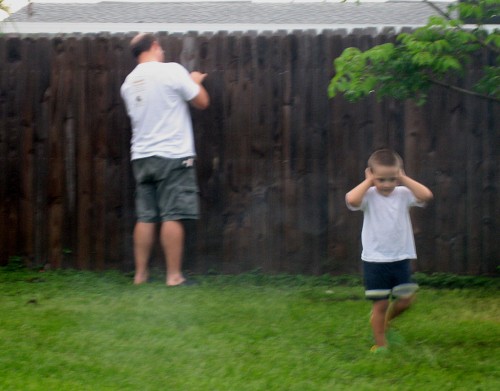 Wife Lila captured Son Matt and Grandson Malcolm shooting off fireworks in 2008, when Malcolm was four. He's not exactly sure how he feels about the noise.
Y'all be careful out there
Light fuse,then get away.
If the firework doesn't go off immediately, do NOT lean over it to see why
If you're in a drought area (I'm talking to you Florida and Texas), don't be shooting off fireworks. The house you save might be mine.