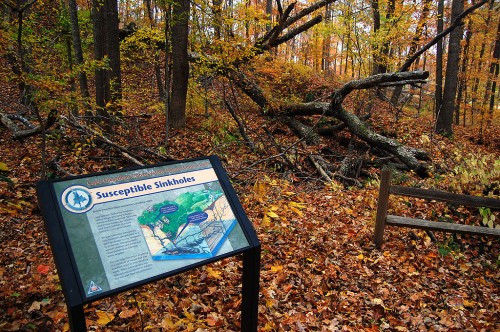 When I rode the Cape LaCroix Recreational Trail last week, I noticed a new low-water crossing at the Lexington / Kingsway trailhead. It looked like there was a trail headed north along the other side of Cape LaCroix Creek.
Today I decided to see how far it went. Along the way, I found mostly good things and a few disappointing things.
Good things about the new trail
It's a beautiful ride, particularly this time of year.
It gives you views of Cape LaCroix (3-Mile) Creek that I haven't seen since I was 10 years old and drowning worms trying to catch something big enough to take home.
It takes you all the way to the Cape Girardeau Conservation Nature Center Trail where there is a bike rack and a park bench.
It's going to give great access to folks living in the Walden Park development and the trailer park south of it.
Bad things about the bike trail addition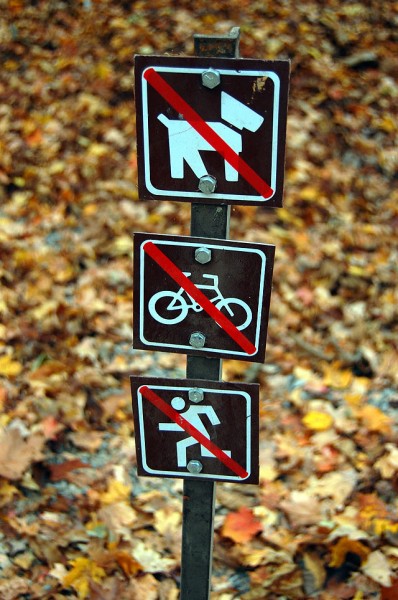 The first thing you see at the Nature Trail is a sign that says dogs and bikes aren't allowed. There's a third international symbol that says if you see a bear or a rattlesnake, you are apparently not allowed to run from it. That, or you're not allowed to do crazy dances on the trail. It's not exactly clear. I hope the bike policy will be changed. Being able to go from South Cape all the way to the Conservation Park would be great.
It's not finished. I talked with a worker who said the trail will be open in about two weeks, Lord willin' and the creeks don't rise (literally). There is one small portion that needs to be paved. ATT had to relocate some fiber optic cable, so that threw the project behind.
There are what look like to me to be some bicycle-unfriendly storm sewer grates in the Walden Park subdivision. The gaps in the grates are definitely wide enough to swallow most bike tires. The slits MAY be short enough that a tire wouldn't sink into it, but I wasn't about to give it a try.
Gallery of Photos Along the Trail
Except for the first two photos in the gallery, all of the photos were taken in sequence starting at the north end of the trail and heading south toward the Lexington / Kingsway trailhead. Click on any image to make it larger, then click on the left or right side of the photo to move through the gallery.
CLARIFICATION:
Wife Lila, who didn't have a chance to read this until hours after it was published, said that I should make it clear that the extension of the RECREATIONAL trail is open to everyone just like the old part. It's the NATURE trail that bans dogs, bikes and – she cleared this up for me – rollerbladers.
There's some logic to that. You wouldn't want dogs chasing the wildlife on a nature trail. It's made of shellrock, so rollerbladers couldn't traverse it anyway. I could see where bikes could cause ruts that would wash. [Note: I suspect that the trail isn't shellrock. That's what we use in Florida – ground up ancient seashells; I imagine you folks use crushed limestone.]