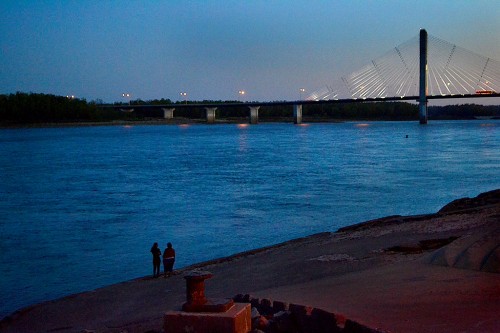 I made a run downtown, but the place I needed to go was closed, so I took a stroll down to the riverfront. It was a perfect night. There was a guy sitting near the Broadway entrance to the floodwall playing a guitar. Next to him was a buddy with a huge boxer on a leash. He started to move him out of my way, but the dog was wagging his tail and I motioned him to stay put.
There's something about the river at night that brings out the friendlies. It's like the setting breaks down the barriers we erect when we're walking down Main Street. Everyone who came by smiled and made a nice comment about the weather or the river. The temps were in the low 70s or high 60, with almost no wind.
The photo was kind of dull until these two young women walked down to the water's edge to take photos with their cell phones. (It would have been better if they had strayed off to the left just a tad more. That would have made a nice triangle of them, the bridge and the bollard.)
I started to thank them for adding visual interest to my photo, but they didn't speak much English (or they were faking it to get rid of the guy they thought was hitting on them). When I showed them their photo on the display of my camera, they nodded and understood.
Bill Emerson Memorial Bridge

I mentioned that we were on a pecan mission the other day. I knew of a couple of nice pecan trees right near the old Mississippi River traffic bridge overlook on the River Campus, so I pulled in to see they had dropped any nuts. Either they had been all picked up or my car headlights didn't spotlight them, so I came up dry.
I couldn't pass up an opportunity to shoot a four-frame panorama of the Bill Emerson Memorial Bridge. Like always, you can click on the photos to make them larger.