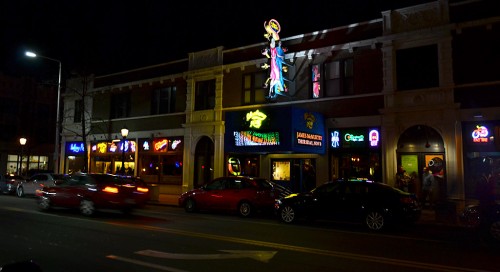 I like to listen to music while I'm working, and I like artists who use words well. When I saw that James McMurtry, son of Lonesome Dove author Larry McMurtry, was going to be in St. Louis, I polled Brother Mark and Friend Shari to see if they'd like to hear him. Mother said she was in until she found out that the show wasn't going to start until 9 pm, so she bailed, leaving a ticket for Friend Shari's BFF Linda. Mark invited Friend Robin.
I hadn't planned to take any photos – I explained to Shari that I can either work or I can watch, and tonight I wanted to be a civilian and enjoy the show – but Robin said break-ins were common and I should take my camera with me.
The show was going to be in The Duck Room at Blueberry Hill. When I booked the tickets, it assigned us a Section, Row and Seat, but it also said Standing Room Only. Boy, was it EVER. (As always, you can click on the photos to make them larger.)
Where are the exits?
The first thing I do when I go into any room is to locate two exits. When we went down the narrow steps into The Duck Room, I couldn't locate a second exit. Then, I looked up and saw the floor above us was wood, there was no sprinkler system and the audience was standing – not exaggerating – shoulder to shoulder. I elected to take a place where I could lean against the wall about 15 feet from the exit. That also kept me out of the traffic of people going back for drinks.
Unfortunately, the four guys who were standing next to me consumed four pitchers of beer after I started counting. They weren't mean drunks, but they bobbed and weaved so it was almost impossible to keep anything close to a clear line of sight, and as the evening wore on, their loud talking and hooting drowned out the show.
How did I take the photo?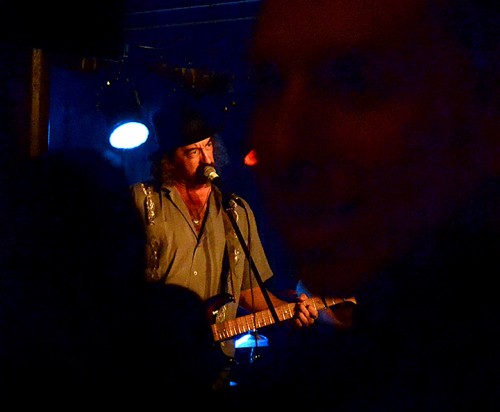 I mentioned that I like music with words. Unfortunately, the guy running the sound board thought louder was better. He cranked up the mike so loud that McMurty's distorted lyrics sounded like Dylan gargling with a mouth full of marbles. I had a digital recorder in my pocket and it confirmed what my ears heard. McMurtry and his band play some mean guitar and drums – Choctaw Bingo had the crowd rocking – but you'd have been at a loss if you didn't know the words.
I couldn't resist banging off 36 frames during the show. I was pretty far back, and catching a view of McMurty between the bobbing drunks was like threading a needle with mittens on. Still, I like this shot of the performer framed between a shadow on the left and a ghostly face on the right..
From a technical standpoint, there was so much dark in the photo (this is a pretty tight crop) that the automatic meter wanted to open up the lens to let in more light. The part of the photo I was interested in, though, was McMurtry, who had a spot on him. I underexposed the shot about two stops or more from what the meter was calling for. That gave him the right exposure and caused everything else to go dark.
An interesting oops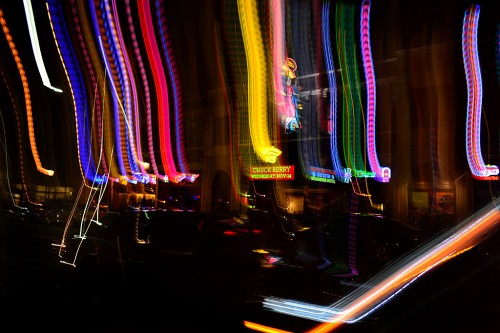 I normally have my camera set to operate at 200 ISO, with the ability to go automatically to higher speeds when the exposure drops below 1/30 of a second. The other day, though, I wanted to shoot some interiors at the highest possible quality, so I locked the ISO at 200 and put the camera on a tripod. The shutter exposure was so long that I even used the self-timer set on 10 seconds. After I pushed the shutter release, the camera counted down 10 seconds before making the exposure. That allowed any motion from the button push to die down.
While our party was walking to dinner, I thought I'd try some street shots. Unfortunately, I had forgotten to put the ISO back on "float" mode. I composed this shot, squeezed off what I thought was going to be about a 1/8 second exposure, then started to put the camera down. Because the film speed was so slow, the actual exposure was 4 seconds, creating these streaks of light. Except that my friends (and brother) were hungry and there was a cold wind blowing, I would have experimented more with this.
Bottom Line on The Duck Room
I'll never go there again.
Putting a bunch of drunks in a dark room where I could spot only one exit is a good way to kill folks. I don't intend to be one of them. I'm not going to say that there WAS only one exit, but I'm a guy who looks for them and I didn't see more than one.
The sound was lousy.
Two-plus hours is too long for my old legs to stand. It's a good thing Mother bailed.
For the price of the tickets for a bad sound and uncomfortable surroundings, I could have bought multiple copies of McMurty's CDs for the group and we could have enjoyed them in Mark's living room.