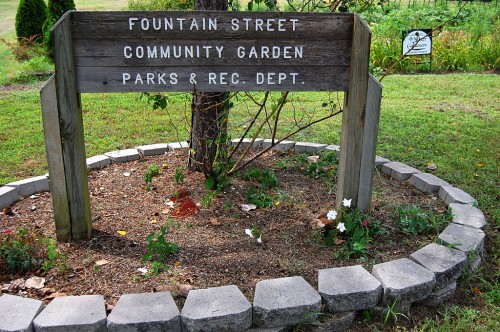 I was riding my bike through South Cape when I spotted the Fountain Street Community Garden not far from Fort D. I had seen it before, but it's a lot easier to pull your bike up on the sidewalk and go exploring than it is to park your car.
Flowers and food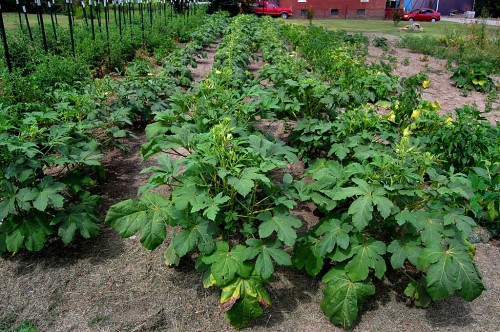 I'm not someone who is good at identifying plants. I divide the world of green into poison ivy and not poison ivy. I DID recognize tomato plants that didn't appear to have any tomatoes on them and hordes of okra.
I know what okra is because Daughter-in-Law Sarah was the second Okrafest Queen in the small Central Florida town Apopka. It's only been in the last couple of years that she's dispensed with the requirement that we bow and curtsey in her presence.
Robert Harris, a remarkable man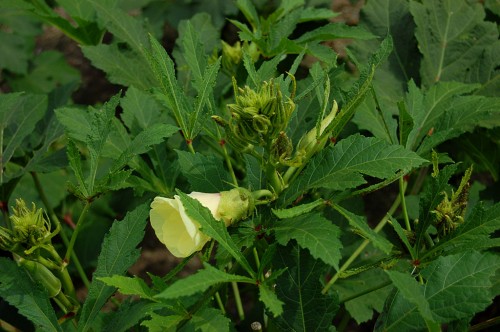 When researching the history of the garden, I ran across a number of stories about Robert Harris, a bus driver with the Cape Girardeau School District and a Master Gardener. The man helped create the Cape Girardeau Community Garden Project beginning with this plot of land. Later, he took over the Red Star Baptist Church garden on North Main Street. The vegetables, one story said, goes to senior citizens or people with health conditions unable to leave their homes. Some of the vegetables, including squash, tomatoes and green beans are left in small bins next to the gardens for anyone who needs them.
Here are just a few of the Missourian stories and editorials about Mr. Harris. I would like to have met him. Comments to stories generally contain at least one disparaging or contentious remark. It's worth noting that there's not one negative comment in any of the stories about Mr. Harris. Every one is effusive in praise for this man whose life's mission is to help others.