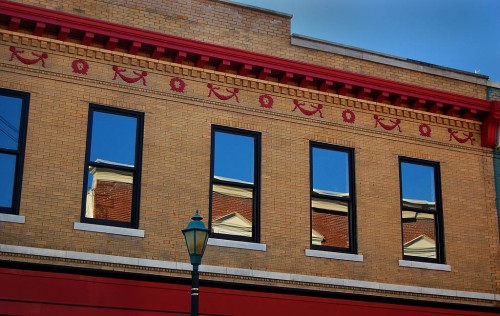 My friends at Old Town Cape posted a note on their Facebook Fanpage: Hey fans do you have any cool pics on Main Street? Add them to this national documentary site, and help us represent Cape Girardeau!
The site is Mapping Main Street. "When politicians and the media mention Main Street, they evoke one people and only one place. But there are over 10,466 streets named Main in the United States." The project's goal is to get photos or video of all of those streets to create a composite of the Main Street that WE live on.
Cape Girardeau's Main Street
When I was in Cape in October, I walked Main St. shooting photos of whatever caught my eye. I've published some of them, and I was holding onto others until I do some research. I'm tossing up these random images for your consideration. Which, if any, of these shots make YOU remember Main Street? If I get enough response, I may send your choices in to Mapping Main Street.
Click on any photo to make it bigger, then click on the left or right side of the image to move through the gallery.
Earlier photos of Main Street
I've done quite a few pages featuring Main Street buildings and activities. Here are a few links: