Check out the new ad on the right side of the page. Becki Whitler Dahlstedt thought this site would be a good place to promote her studio and the upcoming 9th Annual Off The Beaten Path Studio Tour in Mountain View, Ark. Click on the ad and it will take you to the web site.
What's Becki been up to?

I asked Becki, CHS Class of 63 to fill us in on what's she's done since leaving Central
I was unable to come to the latest '60s class reunion but have enjoyed getting news and photos from Ken's website.
After living in Boston, Berkeley and San Francisco for many years working as a consultant, city planner and administrator, I have spent the past 25 years getting back to what I love – being an artist.
Art was my passion at CHS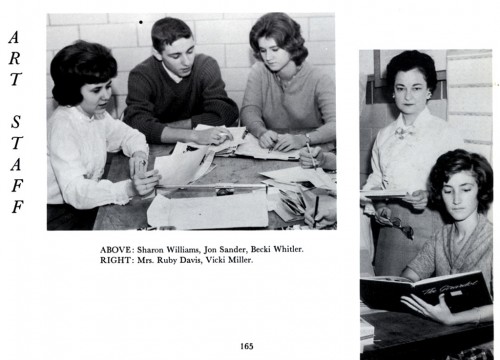 In high school that was my passion -(I was the art editor of the yearbook my senior year)and I continued as an art major at SEMO.
I came to Mountain View, Arkansas, while still living in St. Louis, 26 years ago, met the potter at the Ozark Folk Center, a state park here in Arkansas dedicated to preserving the crafts and music of the Ozarks, and stayed! David and I have been married 25 years and after spending 13 years demonstrating pottery at the Folk Center, we now have a wonderful studio adjacent to our home in "downtown" Mountain View. We are full time potters and market our pottery here in Mountain View and throughout the state.
Nine years ago we started an open studio tour so that folks could visit the private studios of the many wonderful artists and craft artisans here in the Mountain View area. It has become more popular and well attended each year. I volunteer many hours to promote the tour as well as other art events here in Mountain View. This year's 9th Annual Off the Beaten Path Studio Tour will be held on September 17, 18 & 19.
Tom Holland is in Mountain View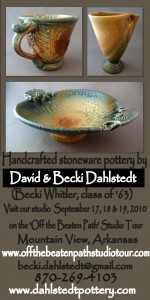 I decided to advertise our pottery business and the studio tour on Ken's website in hopes of reaching some old friends who might like to come visit our studio during the tour.
Some of you might remember Tom Holland – his dad was the minister at the First Baptist Church in Cape for many years. Tom is a beadmaker and is also on the Studio Tour.
It is a fun weekend to spend in Mountain View and you can make reservations here through our website (click on the ad to get there). You can also find out about all the artists on the tour at our website.
Becki (Whitler) Dahlstedt (
I was also Becki Nunnelee, married to Mark Nunnelee from 1964 to 1978).