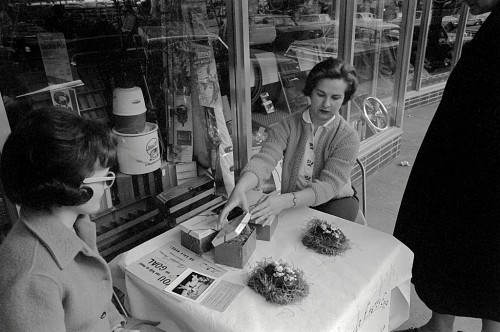 Here's a semi-mystery. The negative sleeve just had a date – March 27, 1967 – written on the front of it. The setting is Main Street, but I don't know why the two photos were taken. There's a huge gap in the Google News Archive for the month of March 1967, so I couldn't even search for them there.
Cherrydale Farms confections
These women were set up in front of what looks like a hardware or sporting goods store. When I flip the photo around so I can read the printing on the signs on the table, one reads, "YOU can help us meet our GOAL. Cherrydale Farms confections ON SALE HERE!"
I'd never heard of Cherrydale Farms, but they're still around on the web selling fundraiser supplies.
The sign on the side of the table says "…Easter Eggs." I hope they made their goal.
Main Street looking north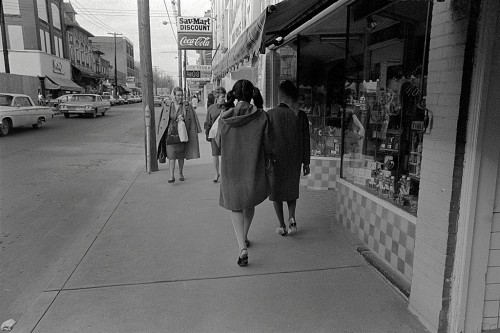 If the sign on Cape Federal is correct, the photo was taken at 4:08 in the afternoon on a day that was chilly, but not cold and windy enough to really bundle up.
I don't see much of a news peg in this photo. There's a plywood wall on the left side of the photo. That's about where the St. Charles Hotel would have been before it was torn down. I may have taken this to burn up film before I processed the roll.