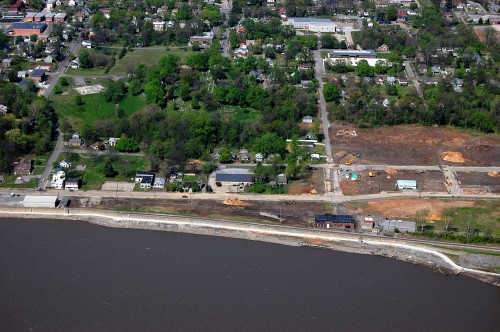 When I flew over the site of the old shoe factory in November of last year, the Isle Casino Cape Girardeau was an abstract idea. When I flew over it April 17, buildings had been knocked down, scores of trees had been turned into a mountain of mulch and land was being cleared.
This is the south end of the project. Main Street runs left to right at the bottom of the photo. Mill Street is in the middle, running East-West. The first three photos were taken from over the Mississippi River looking to the west.
Old Lorimier Cemetery is the wooded area with the white tombstones showing in the left center of the picture. Click on any image to make it larger.
Trees are all that remain of Washington School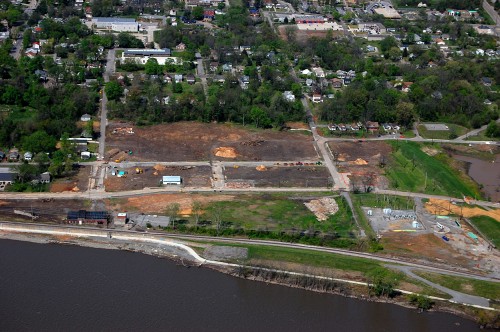 This photo is bracketed by Mill Street on the left and Mason on the right. The half-street in the middle used to be Pearl Street.
A parking lot and a few trees are all that's left of the old Washington School, located between Mill and Pearl Streets. Look for a blue-roofed building and white parking lot. The trees east of it are where the school used to be. It was razed by the university, not as part of the casino project.
Mill Street to Sloan Creek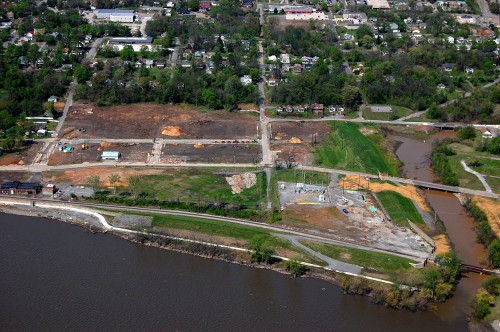 Heavy rain and storms have turned Sloan Creek muddy. You can see the flood gates that can be closed, blocking rail traffic when the river is flooding.
Red Star looking South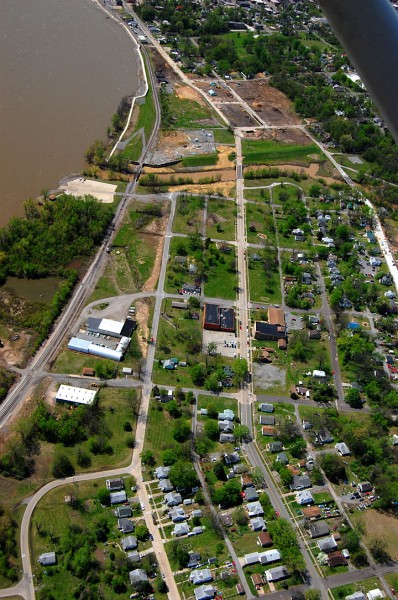 Here's a view of the Red Star District looking south toward the direction of the casino site. The concrete pad on the left is Red Star Access, what used to be called Honker's Boat Dock.
Red Star, once a vibrant community with many residents employed at the shoe factory, suffered one too many floods in 1993. Most of the homes in the flooded area were bought out and only open space remains.
Shoe factory site November 2010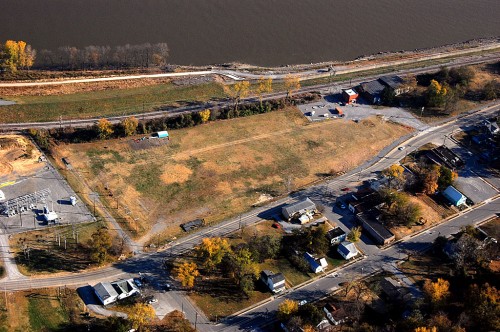 Here are two links to several earlier stories, including more information about this photo.