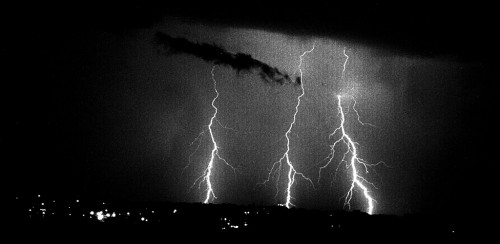 Sorry for not posting last night. A dog ate my homework. (Did I use that one before?)
I was talking with Carla Jordan at the Lutheran Heritage Center and Museum about doing an exhibit of my Wittenberg photos at a 2012 conference when the weather alert went off  announcing a tornado watch. "I'm from Oklahoma," she said. "A watch means we pull out the lawn chairs." I was equally unconcerned. The skies didn't look particularly threatening.
On the way back to Cape, I stopped to shoot a couple of really neat cemeteries under clear skies.
KFVS-TV in full storm mode
When I pulled into the driveway, mother was looking out the window, the scanner in the living room was cranked up to plaster-cracking minus one, and the weather alert was blaring out a tornado WARNING. Before the evening was over, it must have come on at least a dozen times.
KFVS-TV went into full-blown storm coverage mode with all their cool toys. (And, they did a decent job for the four hours or so they stayed on the air.)
Wind gusts were reported as high as 90 mph. Streets were flooded and the fire department was kept running to fire alarms and arcing wires.
While this was all going on, Wife Lila was on a plane flying from West Palm Beach to St. Louis. I was using a flight tracking ap on my Droid to watch the pilot change his path to somewhere in Alabama where there was the only break in a line of storms beween the Gulf and way up north. It must have been like threading the eye of a celestial needle. After that, he flew west, almost to the middle of Missouri, before coming in behind the storm in St. Louis. The flight was about 1-1/2 hours late.
Unplugged the computer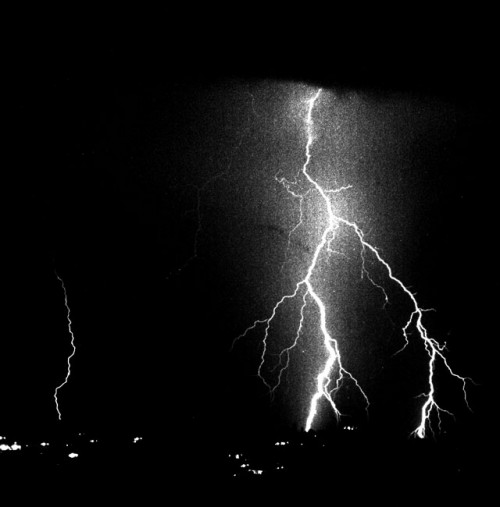 When lightning started crackling around us, I unplugged all the computer gear, so I didn't even have a chance to download the photos I had taken during the day.
We had a big limb break off a maple tree and smash a redbud tree, but no other damage in a quick look-see this morning.
So, that's why I didn't have something up this morning.
If you don't believe that, I was using a new ink that must have smelled like catnip, because the cat licked all of the photos right off the paper.
(The lightning shots were taken in the mid-60s, not last night.)