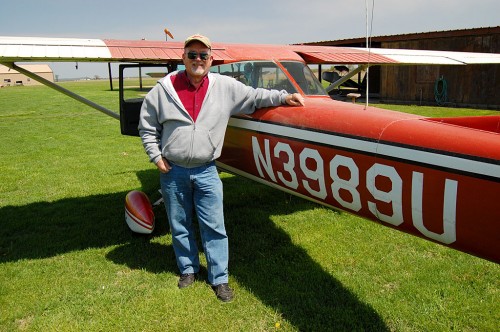 Ernie Chiles and I were on the way to Painton Airport to pick up his plane to fly some aerials around Cape and Perry Counties on Sunday. As we were passing through Delta, I asked him, "Do you know where we were on this day in 1963?"
Ernie, who still thinks I enrolled him in the Rock of the Month Club when he was my earth science teacher, hesitated, wondering if this was a trick question.
I gave him some hints: "School had just let out and we were on our way to the Cape Airport to fly some aerials. Something happened that changed my whole career path. Right in front of us there was a cloud of dust and we came upon a fresh auto accident."
"He's nuts!"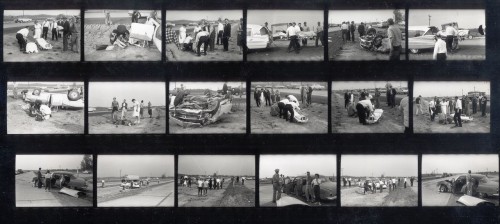 That jogged his memory, "I remember you jumping out of the car and taking pictures, 'He's nuts, I thought.' There are loaves of bread laying all around all over the pavement… and there you are running all around with a camera. 'He's nuts!' You WERE a good photographer.
"You just never know which fork in the road you're going to take. You look back and ask, 'Wonder why I went down that way…?'"
Fame and Fortune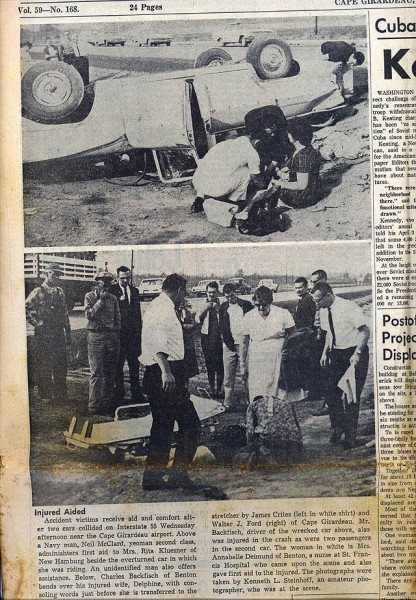 I managed to get into the high school darkroom that night to process and print my film. We don't remember if Ernie had the right keys or if I had to go through principal Fred Wilferth. We both think the principal was involved.
The next morning, I was at The Missourian bright and early with my photos.
When my bundle of papers came flying out of the delivery truck that afternoon, two of my pictures were on the front page, along with a byline. After the next day's mail brought a $10 check, I was ruined for real work from that day on.
One thing that I didn't notice until years afterward was that I had, in my excitement or inexperience, "flopped" the negatives in the enlarger when I printed them. Everything is reversed left-to-right from the real world. Nobody ever noticed it because there was nothing obvious in the photo – like writing – to give away my mistake. Good thing Editor John Blue isn't around to hear my confession. He might make me give my $10 back.
Ernie, Ken and Jim Stone in 1963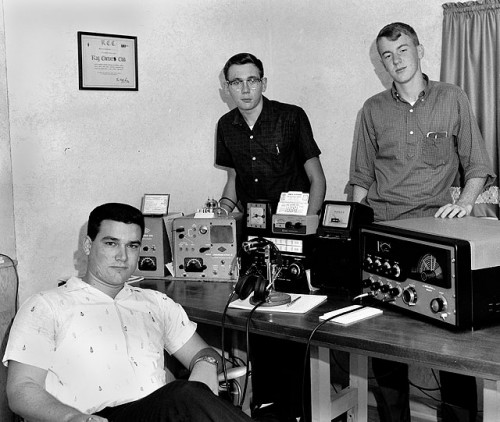 Ernie was the rare teacher who would associate with students outside of school. In addition to being a pilot, he was a ham radio operator. I put all of my money toward camera equipment, but Jim flirted with amateur radio for awhile in high school.
Ernie's radio room today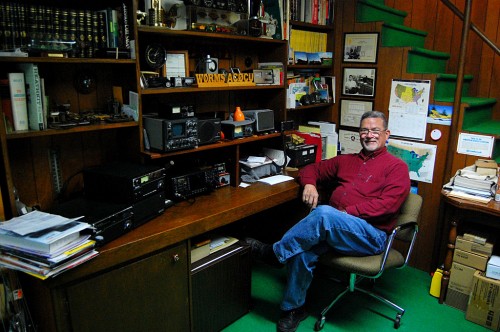 Ernie's a little grayer than he was in 1963, but he can still set a plane down on a grass runway in a 20-knot crosswind. The little two-seater cockpit is a little snugger than it was in the old days, I noticed.
Ernie gave me a great ride today – you'll be seeing the aerials we shot over a period of time – and he's given me a great 48-year ride. He didn't exactly ENCOURAGE me to choose photojournalism as a career ("He's nuts!"), but he helped me down the right fork.
Most teachers I've had (a) wouldn't have associated with a student after hours, (b) wouldn't have involved them in their hobbies, (c) would have told me to stay in the car or have driven past the wreck and (d) wouldn't have facilitated my getting into the school darkroom when the building was locked up.
Central High School may have had teachers who handled academic subjects better than Ernie, but Ernie Chiles is the only one I made a point to come back to see when I hit town. I can say nice things about him without embarrassing us both because he lives in a neighborhood that doesn't have a fast broadband Internet connection and he never sees this blog.