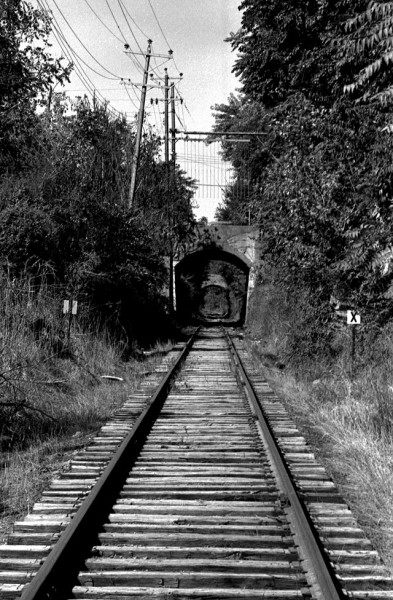 I was planning to write about Happy Hollow, but I ran across so many good stories I decided to hold off until I can do it justice. Here's a piece of the Happy Hollow neighborhood that has what Missourian blogger James Baughn says may have been the oldest bridge in Cape Girardeau.You should read his blog entry about two bridges here that spanned Good Hope and William Streets. Reading his account will boost his traffic stats and save me some typing. (Click on any photo to make it larger.)
Louis Houck decided to use area between Independence and William Streets for his railroad depot, rail yard and other facilities. You might remember the large three-story stone building near where the federal courthouse is today. I wish I had some photos of it, but it was torn down before I started documenting things like that. This trench and overpasses provided a south approach to the rail yard.
Aerial of South Fountain area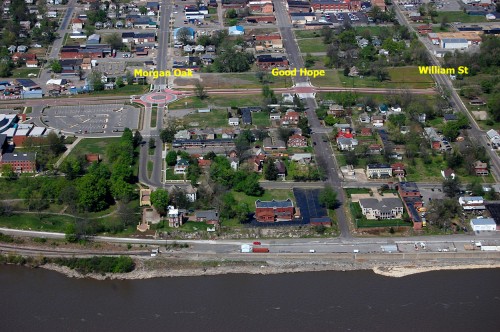 The bridges were taken out and the area filled in when South Fountain Street was extended to River Campus. River Campus is on the left side of the photo. The approach to the old Mississippi River Traffic Bridge is at the east end of Morgan Oak.
View south from William Street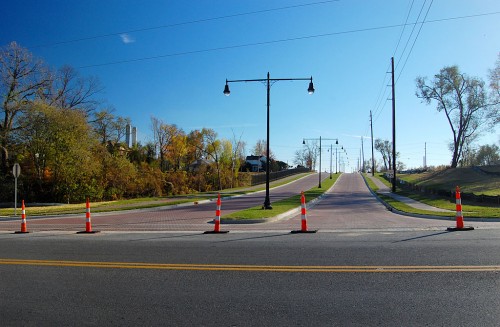 The street was still under construction when this was shot November 9, 2010, but it is open now.
I wonder if ghost whistles of Louis Houck's engines can still be heard in the neighborhood at night. I'm sure reader Keith Robinson will tell us much more about the railroad.