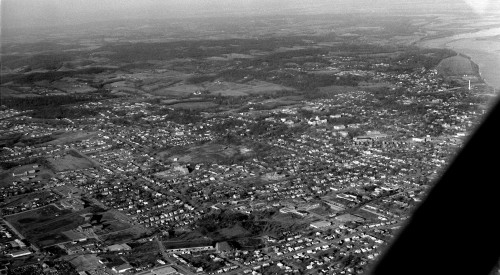 These two photos, taken in 1966, show the heart of Cape Girardeau, looking from the southwest to the northeast. Click on them to make them larger. I increased the resolution of the photos so you can see more detail.
Cape Central High School is in the bottom left. Diagonally to the right would be Southeast Hospital. Academic Hall and Houck Stadium are in right center. There's a white smokestack next to the river on the right side just above the wing strut of the airplane. The shoe factory is in front of it, so that must be the old power plant.
What's interesting is that Cape quickly becomes farm land once you get behind the university. Cape, when you get right down to it, wasn't all that big of a town in 1966.
Cape Girardeau floodwall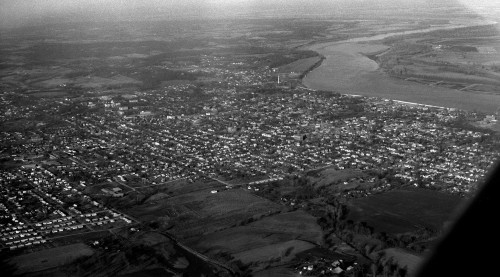 The plane had flown slightly more to the east in this photo. You can see Cape's floodwall gleaming in the sun at the right. The white smokestack mentioned above is more prominent, and you can make out the shoe factory smokestack if you look closely (or have a good imagination).
The Mississippi River Bridge barely shows up next to St. Vincent's Seminary on the far right center.
The trees sticking out on the curve of the Mississippi River north of town would have been Cape Rock.
Other aerial photos of Cape