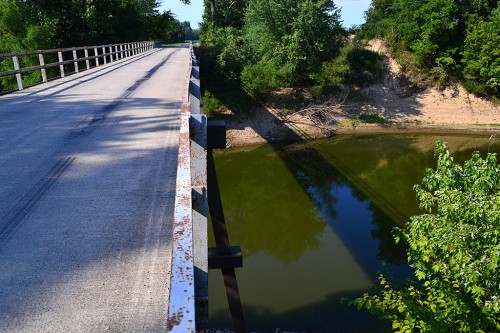 Even though Cape temperatures hit 103 to 107 (depending on the sign) Mother and I went exploring in the Allenville area. I wanted to see how hard it would be to get to the Allenville railroad bridge that's been in the news of late. In the process, I took pictures of the St. Louis Iron Mountain Railway tracks when I came across their crossings south of Dutchtown. They'll be part of another story.
When we headed south out of Allenville on County Road 238, we came around a curve to see a pickup truck sitting in the middle of the one-lane bridge over the Diversion Channel. Well, it might be two-lane, but they'd have to be two bicycles or two REALLY friendly cars. Based on the skid marks and the way the guard rail is a little wavy, I'd say that some vehicles have not met those requirements. (Click on the photos to make them larger.)
After a short pause, the truck crossed the bridge, we gave each other the wave you do in the country, and we went down Hwy N to check the railroad bridge. Looks like it's going to be easier to get to it from the south than from Allenville.
Signs with bullet holes worry me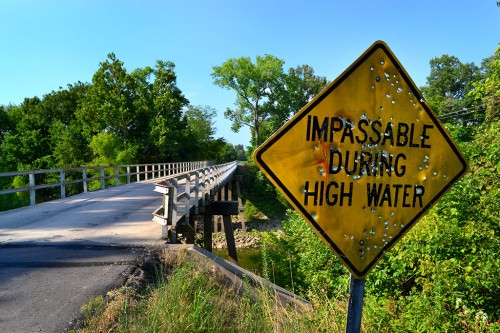 On the way back north, I decided to stop to shoot some pictures of the road bridge.
There must be members of a "well regulated militia" running around Allenville enjoying their Second Amendment rights to shoot at road signs where bullets would strike an oncoming car if they miss (or, based on the number of through and through holes even if they HIT the sign).
View downstream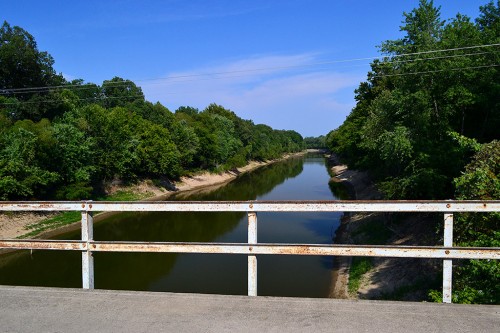 This is where much of the water being drained out of Swampeast Missouri goes on its way to the Mississippi River just south of Cape. If the Mississippi backs up or there's a lot of rain, this ditch could be 15+ feet higher.
Greens make it look cool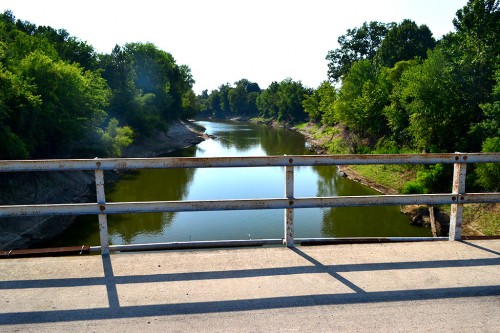 Don't let those greens fool you. My shirt was soaked with sweat when I got back to the car. This is looking upstream.
Holy Cow! Look at the fish!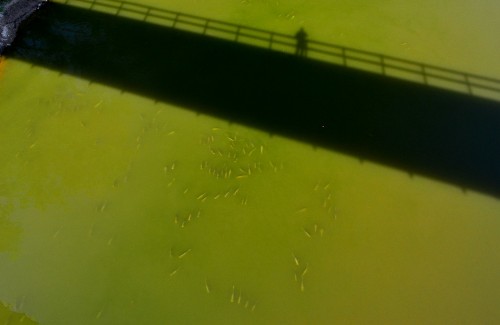 Now I see why the pickup truck was stopped on the bridge. The hot weather and low water brought what I assume to be hundreds of carp to the surface. Fish that could easily go 2-1/2 to three feet were snurfling along the surface like goldfish in a tank. (It's worth clicking on these shots to make them larger.)
For you folks who complain that you never see a photo of me, that's my shadow. I think it's a pretty good likeness.
Turtle comes up for gulp of air

A pretty good-sized turtle surfaced for a bite of air, then slipped back under water.
Open mouths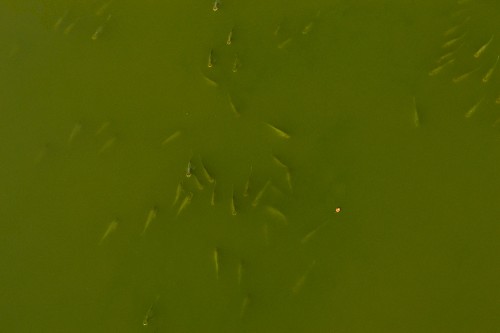 I bet most of these fish could swallow a softball without straining too much. The bright object in the right center of the picture is a leaf floating downstream.